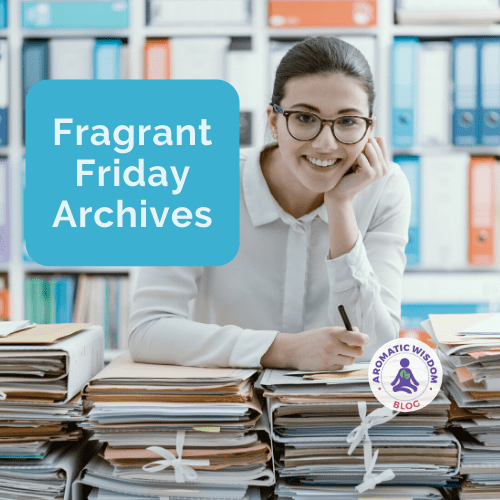 ---
Below is a list of the essential oils that I've featured in special "Fragrant Friday" blog posts.
With each post, you'll find a detailed monograph of the featured aromatic.
The rose-colored links are "live" and read for you to read.
Everything else is in the "to be written" file.
Is there a particular essential oil you'd like to learn about? 
Let me know in the comment section below!
Basil ct. linalol – Ocimum basilicum ct. linalol
Basil, Tulsi – Ocimum sanctum 
Bergamot – Citrus bergamia
Bergamot Mint – Mentha citrata
Bay Laurel – Laurus nobilis
Black Pepper – Piper nigrum
Cardamom – Elettaria cardamomum
Carrot Seed – Daucus carota
Cajeput – Melaleuca cajeputi
Cedarwood, Atlas – Cedrus atlantica
Cedarwood, Himalayan – Cedrus deodara
Cedarwood, Virginia – Juniperus virginiana
Chamomile, Cape – Eriocephalus punctulatus
Chamomile, German – Matricaria recutita
Chamomile, Roman – Chamaemelum nobile
Cistus – Cistus ladaniferus
Cinnamon Leaf – Cinnamomum zeylanicum
Clary Sage – Salvia sclarea 
Clove Bud – Eugenia caryophyllata
Copaiba Balsam – Copaifera officinalis
Corn Mint – Mentha arvensis
Cypress – Cupressus sempervirens
Elemi – Canarium luzonicum
Eucalyptus – Eucalyptus globulus
Fennel – Foeniculum vulgare
Fir, Balsam – Abies balsamea canadensis
Fir, Douglas – Pseudosuga menzesii
Fir, Siberian – Abies siberica
Fir, White – Abies concolor
Fragonia
Frankincense – Boswellia carterii
Geranium – Pelargonium graveolens (aka P. roseum x asperum)
Ginger Root – Zingiber officinale
Guaiacwod – Bulnesia sarmientoi
Guava Leaf – Psidium guajava
Helichrysum – Helichrysum italicum
Hemlock Spruce –
Ho Wood – Cinnamomum camphora ct linalol
Hyssop – Hyssop officinalis
Inula – Inula graveolens
Jasmine absolute – Jasminum grandiflorum or Jasminum sambac
Juniper Berry – Juniperus communis
Katafray – Cedrelopsis grevei
Kunzea – Kunzea ambigua
Lavender – Lavandula angustifolia
Mandarin – Citrus reticulata blanco
Manuka – Leptospermum scoparium
Marjoram – Origanum majorana
Mastic – Pistacia lentiscus
Melissa – Melissa officinalis
Myrtle – Myrtle communis
Myrtle, Lemon
Neroli – Citrus aurantium var. amara
Nutmeg – Myristica fragrans
Orange, sweet  – Citrus sinensis
Opopanax – Commiphora guidotti
Palmarosa – Cymbopogon martini
Palo Santo – Bursera graveolens
Petitgrain, Bigarade – Citrus aurantium var amara
Patchouli – Pogostemon cablin
Pine, Scotch – Pinus sylvestris
Plai – Zingiber cassumunar 
Pine, Pinon – Pinus edulis
Poplar Balsam (Balm of Gilead) – Populus balsamifera
Ravensara – Ravensara aromatica
Ravintsara – Cinnamomum camphora ct. 1,8 cineole
Rosemary – Rosmarinus officinalis
Rhododendron – Rhododendron anthopogon
Peppermint – Mentha x piperita
Sage, Dalmation – Salvia officinalis
Sage, White – Salvia apiana
Sandalwood – Santal album
Rose – Rosa damascena
Rosalina – Melaleuca ericifolia
Rosemary – Rosmarinus officinalis
Saro – Cinnamosma fragrans
Spearmint – Mentha spicata
Spruce, Black – Picea mariana
Spruce, Norway – Picea abies
Spruce, White –
Spikenard –  Nardostachys jatamansi
Tea Tree – Melaleuca alternifolia
Turmeric
Valerian
Vanilla, Bourbon
Vetiver – Vetiveria zizanioides 
Xanthoxylum – Zanthoxylum armatum
Yarrow – Achillea millefolium
Ylang Ylang – Cananga odorata
Zdravetz – Geranium macrorrhizum