---
Today's Fragrant Friday essential oil was suggested by Beverly Noble. It's a wonderful oil Bev!
Helichrysum is known for its quick healing properties,
and is the best essential for topical wounds and bruises.
Essential Oil of Helichrysum
(Helichrysum italicum)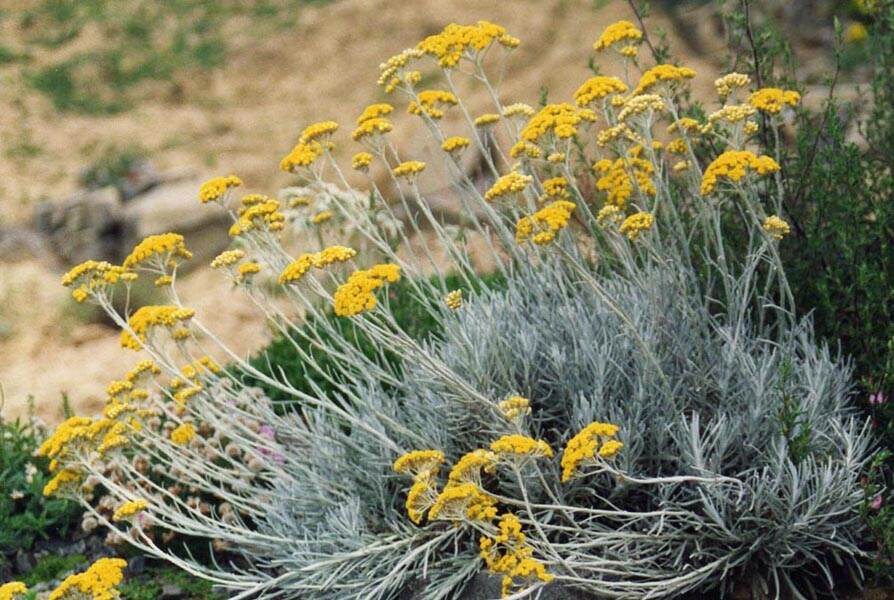 My personal relationship with Helichrysum:
A few years ago I was the keynote speaker for a conference.  As I finished unloading my van of my supplies, I slid the door closed, I didn't get my hand out of the way in time and slammed the door on the first three fingers of my right hand.  I immediately applied helichrysum since it was by my side in my oil box.
I was quickly ushered inside where the paramedic examined my hand. When he saw the deep cuts and bright purple bruising that was quickly forming on my fingers, he drove me to the local ER.  As I waited to see the doctor, I continued to apply the helichrysum (which drew a lot of funny looks from others in the waiting area).  I was x-rayed, cleaned up, fingers wrapped and sent back to the venue where I was still in time to speak.  When I arrived, the paramedic asked to see my fingers.  When I removed the wrapping he was shocked!  There were still deep cuts, but the bruising was nearly almost gone.  He said he had never seen any wound heal as quickly as mine.  I explained that it was because I'd applied the Helicrysum so quickly after the trauma to my fingers, and continued to do so for about an hour after.
Note: Middle
Geographical source: Corsica, USA, Bosnia and Croatia
Plant Part: Flowers
Oil Characteristics: Helichrysum is fresh, herbaceous, warm and radiant
Chemical Families: Monoterpenes, Sesquiterpenes, Monoterpenols, Sesquiterpenols, Ketones, Esters
Therapeutic Properties:
Alleviates inflammation
Helps prevent and relieve symptoms of allergies
Supports the healing of wounds and burns
Applications:
The amazing healing benefits of Helichrysum oil have to be seen to be believed.  It can disperse bruises, help with injured muscles and help reduce skin scarring.
Some Suggested Uses
Use neat (1 drop only) on cuts. wounds and bruises.
Add to massage oil for soothing an overactive mind
Add to Arnica oil to help reduce bruising
Use in a nasal inhaler to help reduce symptoms of allergies
Blends well with: Lavender, Orange, Frankincense
A Recipe Using Helichrysum:
Minor Cuts and Wounds Oil
Ingredients:
1 oz Trauma Oil
10 drops Lavender
6 drops Helichrysum
4 drops German Chamomile
1 oz bottle
Subtle Properties (vibrational and energetic):  Helichrysum gives spiritual strength and helps integrate spirituality and compassion.  Just as this oil beautifully facilitates healing of the physical body, it also support healing of emotional wounds. It helps dissolve feelings of depression and emotional exhaustion.
Fun Facts: A member of the daisy family, Helichrysum grows in dry, rocky and even sandy environments. The "curry plant" is a multi-talented bloom and its range of use stretches from the medicinal to dried flower arrangements.
Safety Information: Non-toxic, non-irritating. Thought to be most useful at low doses.
Where to Buy:  You can find all these essential oils and the Trauma oil at Natures Gift Aromatherapy. 
If you'd like to read past Fragrant Friday posts,
check out the Fragrant Friday Archives
Related Posts: