Today's featured essential oil is a citrus must-have in every aromatic toolbox!
Essential Oil of Lemon 
Citrus limon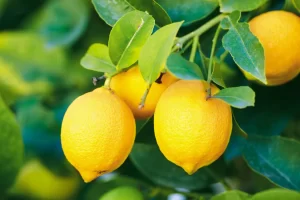 (image source: Brittanica)



This blog post may contain affiliate links which means I may receive a small commission if you make a purchase using them. The commission is paid by the retailer at no extra cost to you.
My Personal Connection to Lemon Essential Oil
Two lemon essential oil stories:
1. I use it a lot in winter with clients who are affected by the dark, short days. I have them inhale a big whiff right from the bottle and then ask them to imagine they are sitting in a sunny lemon grove. It always makes them smile!
belei2. I had a friend cut her palm deeply with a sharp knife while washing dishes. I had lemon oil handy and used it "neat" directly on the open wound to help stop the bleeding. She said it did sting a little bit but was worth it because the blood coagulated quickly and the bleeding stopped within a few minutes. 

The Foundations
Geographical Source: Grown and cultivated in many countries; Spain, Italy, France, South Africa, USA 

Plant Part:  The essential oil is cold-pressed from the rind of the fruit. 

Lemon Essential Oil Characteristics: This essential oil has an exquisite fresh fruity aroma with floral undertones. The color of the oil is usually a light greenish-yellow color which tends to fade with age, especially when exposed to light. Don't buy bergamot that is brownish. It is old and probably highly oxidized, making it unsafe for topical use.
Chemical Families:  Primarily Monoterpenes
Click Here to Learn More about Chemical Families
Therapeutic Properties of Lemon Essential Oil
Analgesic

Anti-inflammatory

Antibacterial

Antidepressant

Antioxidant

Antispasmodic

Antiviral

Astringent

Cooling

Diuretic

Immunostimulant:

 
Suggested Applications for Lemon  Essential Oil
Lemon essential oil is an incredibly versatile oil with a wide range of benefits. From aiding in digestion to helping to clear up acne. When used topically, lemon essential oil can help to brighten the skin and even out the tone (see safety information on topical use below). It can also be used to cleanse the scalp and promote hair growth. When diffused, lemon essential oil can help to boost energy levels and improve mood. Lemon essential oil is versatile and can be used for many purposes. Here are some ways to use it:
Diffuse it to boost your mood and energy levels.
Add a few drops to your cleaning products for a fresh, clean scent.
Make a homemade soft scrub for cleaning the kitchen and bathroom.
Use one drop on a cut to slow down or stop bleeding.
Add to any blend for an uplifting, antidepressant effect.
Lemon Blends Well With these Essential Oils
I don't believe there exists an essential oil that doesn't blend aromatically with Lemon; but there are some that going nicely, aromatically, with lemon essential oil.  Here's the list:
Fresh Woods Diffuser Recipe
This simple blend has a fresh aroma that is perfect for any room in your home.
Ingredients:
4 drops Cypress Essential Oil (Cupressus sempervirens)
3 drops Lemon Essential Oil (Citrus limon)
2 drops Lavender Essential Oil (Lavandula latifolia)
Directions: Simply add the essential oils to your diffuser with water. Enjoy!
Subtle Properties of Lemon  (vibrational and energetic):
d emotion.
Safety Information for Lemon Essential Oil
Lemon can be a phototoxic essential oil which means it can react with sunlight causing burning, discoloration, and skin damage. If you use Lemon essential oil topically, please avoid direct sunlight or tanning beds for 12-24 hours after applying it to the skin.
My Aromatic Wisdom SoulCollage Card for Lemon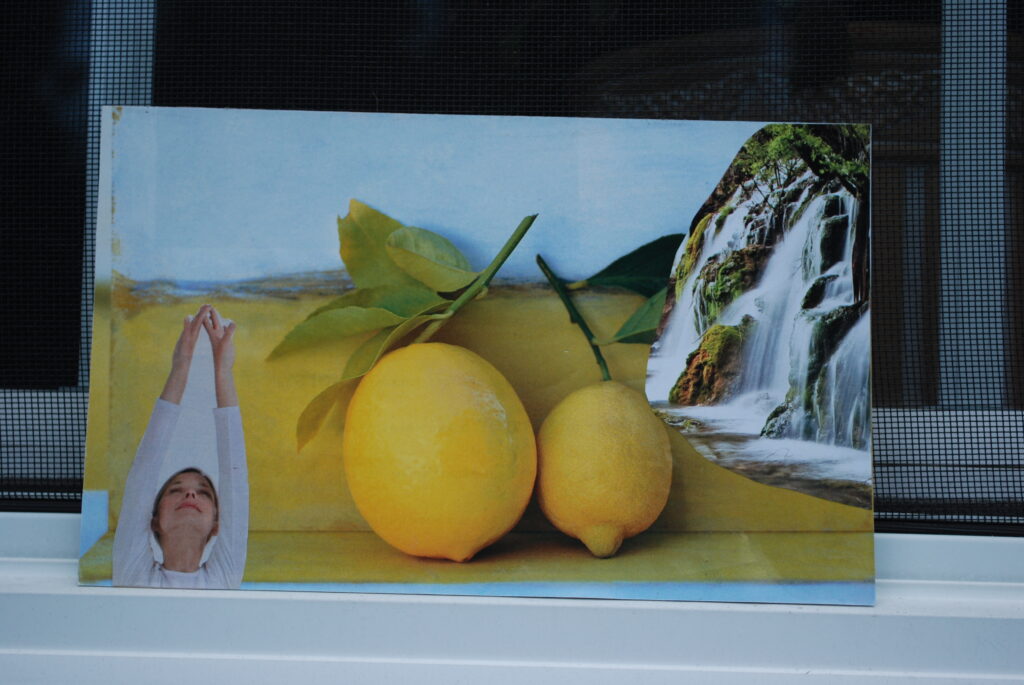 Where to Buy Lemon Essential Oil
Suggested Essential Oil Suppliers – with GC/MS reports
Suggested Essential Oil Suppliers – without GC/MS reports
References:
For recipes, course discounts, aromatherapy news and resources, join the community!

Related Posts: