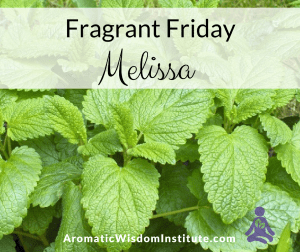 ---
Melissa is a beautiful lemony paradox.
It's easy to grow in abundance, yet the essential oil it produces is very costly.
Nevertheless, I consider this aromatic a staple in my aromatherapy toolbox
because of its powerful therapeutic properties for both body and mind.
For example, if you're having anxiety about a sudden cold sore outbreak on your face,
Melissa can address both issues at the same time!
Essential Oil of Melissa
Melissa officinalis

My personal relationship with Melissa: Melissa only became a good friend a couple of years ago. In my Aromatic Wisdom Podcast episode 21 entitled Depression Relief with Aromatherapy, I share my personal battle with clinical depression in 2015-2016.  In this episode , I share about how I was unexpectedly drawn to Melissa essential oil during this emotionally challenging time, and diffused it nearly every day.
When you look at the properties of Melissa, it's no surprise as it can be a  wonderful sedative for anxiety and panic, helps melt away insomnia and can lift your spirits from dark moods. It's interesting to note that with my return to good mental health and feeling wonderful, I no longer crave Melissa.
Note:  Middle
(To learn more about aromatic notes, this blog post explains them)
Geographical source: Melissa is harvested in Europe.
Plant Part: The essential oil is steam distilled from the leaves.
Oil Characteristics: Melissa has a fresh lemony, herbaceous aroma.
Chemical Families: High in Aldehydes (approx 30%), Sesquiterpenes, Monoterpenes
(To learn more about Chemical Families, listen to one of my most popular podcasts. Aromatic Wisdom Podcast Episode 008.)

Interesting Chemistry Fact:  As you can see in the GC/MS report below, a 2016 batch of Melissa from Pompeii Organics contains an unusually high percentage of beta-caryophellene, a component great for reducing pain.
Therapeutic Properties:
(Here's a glossary to help you understand some of the therapeutic property terminology.)
Helps relieve pain
Deeply sedative
Antispasmodic
Strongly sedative for anxiety and panic
Soothes irritability, anger tension (wonderful with Ylang Ylang for anger)
Antidepressant
Antiviral, superb for calming an outbreak of herpes
Febrifuge – helps reduce fever
Applications:
(Here are some guidelines for making your own essential oil blends in a safe dilution.)
Got a cold sore? Get a bottle of Melissa right away. If you catch it early enough, it will help that unsightly wound heal quickly. Don't forget the calming and emotionally lifting gifts of Bergamot for anxiety.
Bath: 3-5 drops, mixed with 1 oz carrier oil (excellent with Ylang Ylang and Lavender).
Massage Oil: For times of emotional stress of any kind, make a blend of Melissa, Ho Wood, Orange and Lavender, make an appointment with a professional massage therapist and take your blend with you. Or you can apply on your neck, chest and arms.
Include in any blend for an uplifting yet calming effect.
Subtle Properties: (vibrational and energetic): Melissa resonates with the heart chakra, allowing love to radiate in and out. Bergamot, Rose, Melissa and Cypress are all wonderful when facing grief of any sort.
Fun Fact: The plant Melissa officinalis is referred to as the Lemon Balm plant and the hydrosol is called Lemon Balm hydrosol. Only the essential oil is referred to as Melissa.
Safety Information: Non-toxic, but may cause skin irritation in those with sensitive skin. Avoid using on children under 2 years. May interfere with diabetes medication when taken internally. Robert Tisserand suggests the use be restricted to 0.5% maximum on the skin during pregnancy due to citral which could affect fetal development in high topical doses.

References:
1. Keim, Joni, Daily Aromatherapy
2. Battaglia S. The Complete Guide to Aromatherapy. 2nd edition, The International Centre of Holistic Aromatherapy, Australia, 20033.
3. Essential Oil Safety, Tisserand and Young, 2nd Edition
---
Do you have a place to keep all your blend recipes? If not, consider My Book of Blends.
I created it for myself and realized so many other aromatherapists could use such a book.
With over 150 pages to name, rate, make detailed notes, list out number of drops used and
carrier oils used in your recipes, this book is the perfect place to keep them
safe all in one, easy to use space.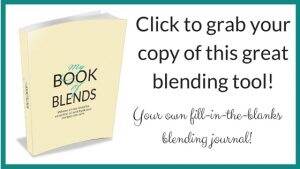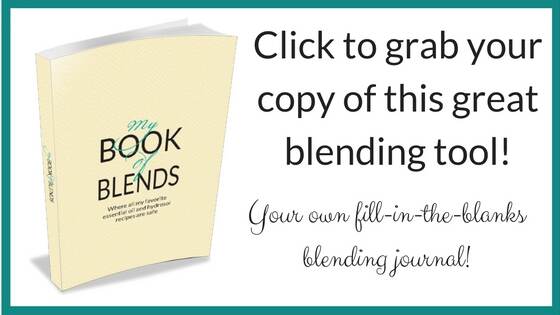 Related Posts: