As both the Northern and Southern Hemispheres slip into their new seasons of Fall and Spring respectively, people begin to increase their physical activity.  Whether you are suddenly raking piles of leaves, riding your bike or hitting the gym, vigorous exercise and movement can leave you aching.  If you want pain relief for sore muscles and aching joints, Black Pepper essential oil is just what you need!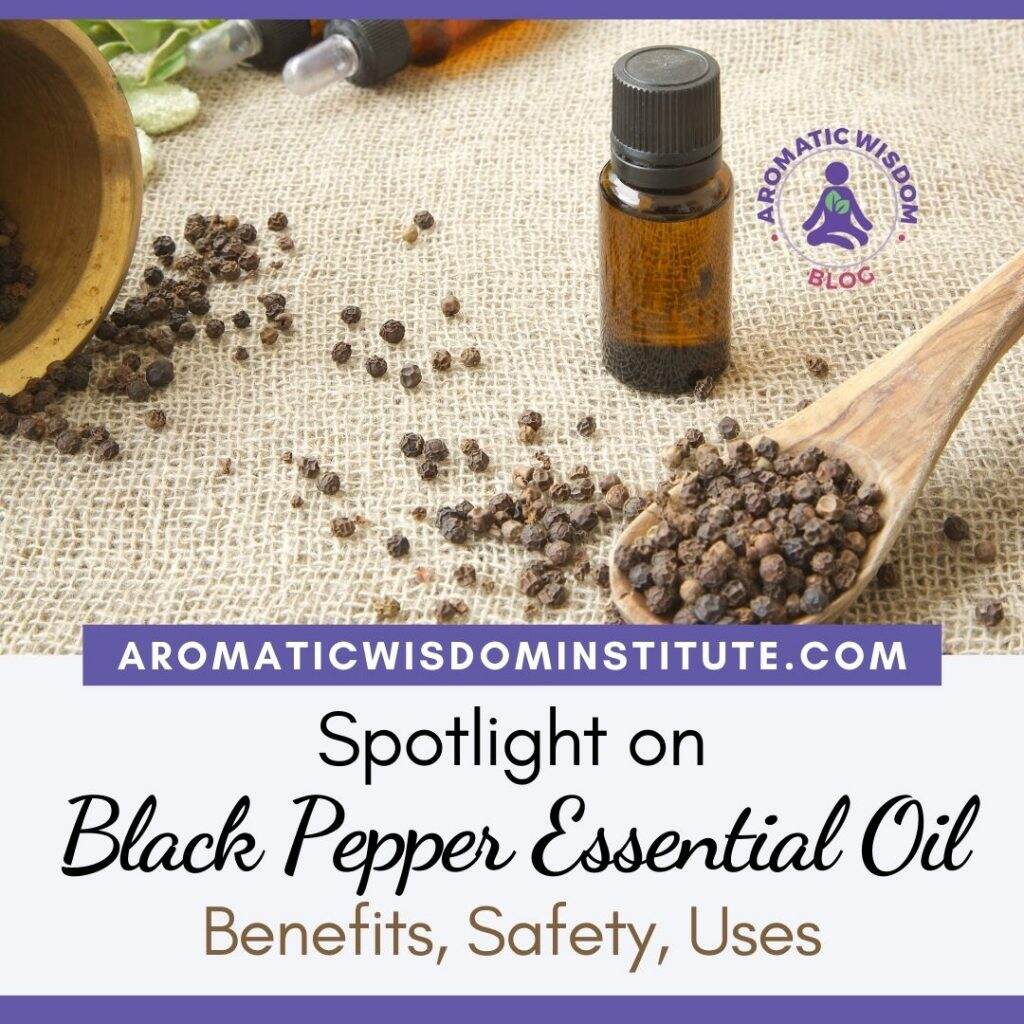 ---
My Personal Relationship with Black Pepper
As a long-time massage therapist and mother of athletes, black pepper essential oil has been an important part of my world. I've used it in massage blends for clients with pain and inflammation or poor circulation as well as in salves to soothe the overworked muscles of my sons and my husband.
---
The Foundations
Latin Name: Piper nigrum
Note: Middle
Extraction Method and Plant Part: Steam Distillation of the Dried Peppercorn
Oil Characteristics: Spicy, Warm and Radiant Aroma; Colorless
---
Chemical Profile for Black Pepper Essential Oil
Black Pepper essential oil has a high Monoterpene content with the primary components being pinene, carene and limonene.  This oil is also high in the sesquiterpene, beta-caryophyllene.
Listen:  Essential Oil Chemical Familites, A Beginners Guide
---
Therapeutic Properties of Black Pepper Essential Oil
Helpful Reading: Glossary of the 40 Most Common Essential Oil Properties 
Antiseptic – assists in fighting germs/infections
Antiemetic – reduces incidence and severity of nausea, vomiting
Anti-inflammatory – alleviates inflammation (rubifacient)
Expectorant – releases excess nasal/bronchial congestion
Febrifuge – reduces fever
Rubifacient – increases local blood circulation, causes minor skin irritation, vasodilation and local analgesic effect
Warming
Digestive stimulation
---
5 Suggested Uses for Black Pepper Essential Oil
Topical use of Black Pepper essential oil can feel warm and comforting to an aching body.  However, make sure you dilute it in a carrier such as jojoba oil or sweet almond oil to avoid irritation or sensitization to the skin.  Once diluted it's safe to use on the skin and wonderful in a massage oil. Try using it in a warm compress for specific areas of pain and inflammation.
Black Pepper oil is great for the cold and flu season. Try adding a drop to jojoba for a chest rub or foot massage oil to warm up the body and stimulate circulation and the immune system. Due to its analgesic and warming qualities, black pepper it is great in sports massage oils for sore muscles, pain and stiffness.
Add it to a nasal inhaler or put a drop or two on a tissue to inhale its spicy aroma to help educe nausea.
Black Pepper is a great anti-inflammatory and can help increase circulation in an area that is cold and stiff, especially first thing in the morning.  Avoid if an area is hot from inflammation.
Add to a cream and massage into belly for constipation, gas, and to support digestion. Use at a 1% dilution (5-6 drops per ounce of carrier).
Listen: Blending Guidelines for Making Aromatherapy Products
---
Black Pepper Blends Well With These Essential Oils
Citrus oils, Conifer Oils, Herbal Oils like Tea Tree, Marjoram, Thyme and Peppermint
---
Black Pepper Recipe "Relief from Muscle and Joint Pain"
1/2 C extra fine granulated sugar
1/4 C organic coconut oil
5 drops Black Pepper essential oil
3 drops Lemon essential oil
s is dangerous in the shower or tub)
Directions:
1. combine the sugar and the coconut oil together. This will be a bit of a chore if the oil is hard. Keep working at it and it will soften.  When it's well mixed, add the essential oils and make sure they are well distributed throughout the mixture.
2. Use a small spatula to scoop out the scrub into the plastic jars
To Use:  Scoop out a bit of the mixture while in the shower and rub onto your chest, neck and shoulders to help open up your sinuses.
---
Subtle Properties (vibrational and energetic)
Affirmation to Use with Black Pepper:
---
Safety Information
May cause skin irritation. Use in 1% dilution (5-6 drops per ounce of carrier) when applying to the skin in massage oils. Not recommended for use in baths.  Store well as the high monoterpene content leaves it vulnerable to oxidizing. Once oxidized, it is even more likely to cause serious skin irritation or sensitization.
Read: Essential Oil Irritation and Sensitization
Listen: Essential Oil Sensitization: Are you at Risk?
---
Where to Buy
You can find Black Pepper essential oil at NaturesGift.com. This is not my company, nor do I receive any compensation from them. However, I use their products in my classroom because of the exceptional quality and customer service.  Are you on my mailing list or a student?  Did you know you can get 10% discount with a special code?  Ask me! write to liz@aromaticwisdom.com
---
References
Lawless, The Encyclopedia of Essential Oils, London: Harper Thorsons, 2014, 162-163.
Lis-Balchin, M, Aromatherapy Science: A Guide for Healthcare Professionals,  UK, Pharmaceutical Press, 2006, 101.
Battaglia S. The Complete Guide to Aromatherapy. 2nd edition,  Australia, 2003
Price S. Aromatherapy for Health Professionals, Churchill Livingstone, 1995
Petersen, Dorene. Presentation: Clinical Use of Aromatherapy for Brain Health: 7 Essential Oils. New Brunswick, NJ. AIA 2017 Conference Proceedings page 221-222.
Tisserand, R and Young, R,  Essential Oil Safety, 2nd Edition. UK: Churchill Livingstone Elsevier, 2014, 384-385.
---
Pin to Pinterest
---
If you'd like to read all the Fragrant Friday blog posts,
check out the Fragrant Friday Archive
---
Essential Oil Book Suggestions
Essential Oil Safety
Own Safety Profiles for 400 Essential Oils and 206 Constituents
Authors: Robert Tisserand and Rodney Young

The Complete Book Of Essential Oils & Aromatherapy
Includes 125 Essential Oil Profiles
Author: Valerie Ann Worwood
Related Posts: