If you think Ginger is only for delicious Asian cuisine, think again!
This warming essential oil is a terrific addition to blends for
painful conditions and to help increase circulation. 
This blog post may contain affiliate links which means I may receive a small commission if you make a purchase using them. The commission is paid by the retailer at no extra cost to you. 
   Essential Oil of Ginger
Zingiber officinale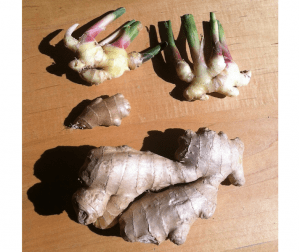 My personal relationship with Ginger Essential Oil
It took me a long time to fall in love with Ginger. I had a hard time getting past the Chinese food image in my head whenever I used it. But with time and witnessing some amazing pain relief from my massage clients, I've come to regard Ginger as a comforting and valuable friend.
The Foundations
Note: Middle (To learn more about aromatic notes, this blog post explains them)
Geographical source: China, Madagascar, India
Plant Part: Rhizome (Root)
Extraction Method: Steam Distilled
Oil Characteristics: Sweet, Warm, and Spicy
Chemical Families: Monoterpenes, Sesquiterpenes, Monoterpenols, Aldehydes, Oxides.
Learn More About Essential Oil Chemistry and Chemical Families:
Listen to these Aromatic Wisdom Podcast Episodes: 
– AWP 008: Why Every Aromatherapist Should earn Essential Oil Chemistry
– AWP 032: Essential Oil Chemical Families (Beginners Guide)
Read this Aromatic Wisdom Blog Post
– Cheat Sheet: Ten Essential Oil Chemical Families and their General Characteristics
Therapeutic Properties:
Read:
Analgesic, offering relief to painful conditions
A nice alternative to Peppermint for bouts of nausea
Antispasmodic, offering relief spasms
Generates localized increase in blood flow and circulation by irritation of the skin
May reduce pain and inflammation
Helps to warm the area of application
Learn More About Aromatherapy Terms: Glossary of the 40 Most Common Essential Oil Properties and Aromatherapy Terms
Some Suggested Ways to Use Ginger Essential Oil:
For mucous and congestion, try a warm compress with Ginger essential oil placed on the chest, or rubbed into the chest in a salve blend.
Because of Ginger's anti-inflammatory and analgesic properties, be sure to include a few drops in blends designed for arthritis and muscle or joint pain, along with Spike Lavender, Plai, Marjoram, and Black Pepper.
Good for nausea caused by traveling, pregnancy, and chemotherapy, but be careful in an inhaler as it may be irritating to the mucous membranes.
Want to make your own blends?
Here are some great Dilution Guidelines for safely making
your own essential oil formulas!
Ginger Essential Oil Blends Well Aromatically With These Essential Oils:
All the citrus oils, especially Orange and Mandarin plus spice oils like Nutmeg, Clove, Cinnamon, and Black Pepper.
Subtle Properties (vibrational and energetic):
Ginger root is both strong and fiery making it a superb choice when you need a boost in your personal inner strength, willpower, and motivation, especially when combined with Black Pepper.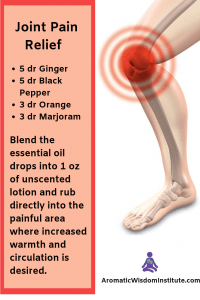 Joint Pain Relief
5 drops Ginger
5 drops Black Pepper
3 drops Sweet Orange
3 drops Marjoram 
Directions: Blend the drops from the above list of essential oils with 1 oz (30 ml) of unscented lotion, and rub directly into the painful area where increased warmth and circulation is desired.
Safety Information on Ginger Essential Oil:
Ginger is considered non-toxic, however, it may cause skin irritation for anyone with sensitive skin, especially children. Use in low dilution for topical application.
Where to Buy Essential Oils:
Suggested Essential Oil Suppliers – with GC/MS reports
Suggested Essential Oil Suppliers – without GC/MS reports
References:
Battaglia S. The Complete Guide to Aromatherapy. 2nd edition
Mojay G. Aromatherapy for Healing the Spirit, Henry Holt and Company Inc., England, 1996
Davis P. Aromatherapy an A-Z. Revised edition C.W. Daniel Company Limited, England, 1999
Price S. Aromatherapy for Health Professionals, Churchill Livingstone, 1995
Interested in more Fragrant Friday posts? Check out the Fragrant Friday Archives.
Be Happy, Be Well!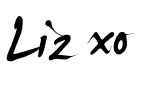 Related Posts: