A Dose of Aromatic Wisdom
with Liz Fulcher, The Voice of Aromatherapy
Liz shares 30 years of aromatic experience and knowledge through tutorials, personal stories,
humor and inspiration in a warm and friendly manner.
---
Available at Apple Podcasts, Spotify, Google Podcasts, Stitcher,  Buzzsprout, and other podcast platforms.
---
To see the show notes, hover over the play bar and click the "i" in the lower right-hand corner.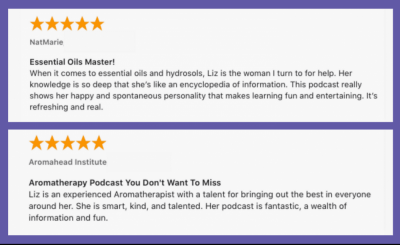 Questions? Contact Us Today!
If you have questions about our courses, or aromatherapy practitioner training, or have ideas for new training, please let us know!
Contact