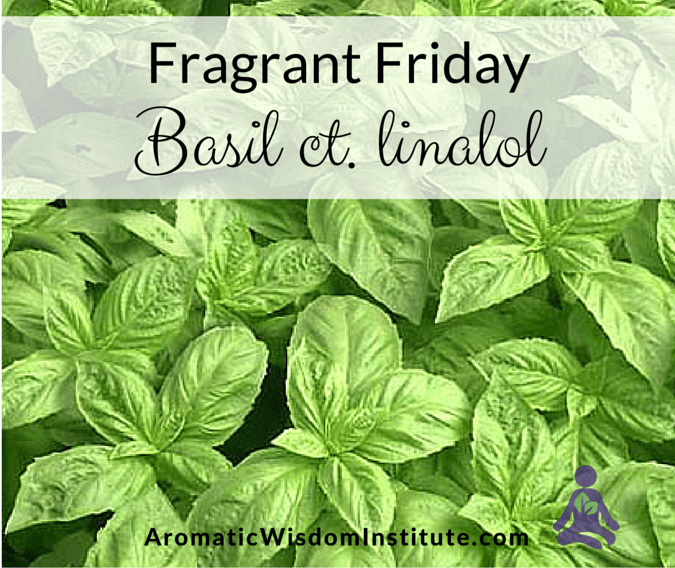 ---
If you were born under the astrological sign of Gemini,
today's featured aromatic is your signature essential oil
since both Basil and Gemini are ruled by the planet Mercury.
Ever hear of someone having a mercurial nature?
It means they are lively, animated and quick-witted.
That's the influence of Mercury and the effect of Basil.
If you need support in the area of concentration and mental focus, Basil is the oil for you!
Essential Oil of Basil ct. linalol
Ocimum basilicum ct. linalol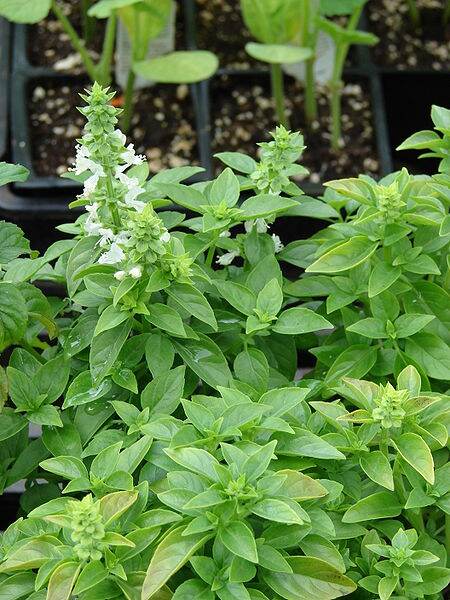 My Personal Relationship with Basil
I will always associate the Basil plant with Dr. Jim Simon.
In the summer of 1999, I attended a program run by Dr. Simon at Perdue University in Indiana called Essential Oils: Advanced Studies.  Dr. Simon was passionate about Basil. He took us on long walks through the University's basil gardens showing off his creative hybrids with the pride of a new father.
The Many Species of Basil (To learn more about varieties and species, see this blog post on taxonomy).
I never knew one plant could produce so many varieties and species!
Here are just a few…
Sweet basils: Sweet, Genovese, Large-leaf, Mammoth
Purple foliage basils: Dark Opal, Purple Ruffles
Lemon basils: Lemon-Scented, Lemon, Sweet Dani
Others: Cinnamon basil, Spicy Bush, Camphor, Anise, Licorice
If you're super committed to learning about Basil, here is a wonderful (and rather complicated) paper Dr. Simon wrote on the subject.
Basil Chemotypes (To learn more about chemotypes, see this blog post)
As with any plant that produces different chemotypes, the chemical components of that plant will vary dramatically depending on its chemotype.  Whenever you see "ct" which is the abbreviation for chemotype, be certain about the chemical profile and chemotype of the oil you're using. If the oil contains significant amounts of eugenol, it may cause skin irritation for people with sensitive skin. The oil featured in this Fragrant Friday post is the linalol chemotype, which means it is the most gentle, and skin-friendly of the other Basil chemotypes.
Other Basil chemotypes you find will be methyl chavicol, eugenol, methyl eugenol and methyl cinnamate.
Note: Top
Geographical source: Sweet Basil is mostly grown in the Mediterranean, Europe and India, but is readily available domestically.
Plant Part: The essential oil is steam distilled from the flowers and leaves.
Oil Characteristics: Sweet Basil is a top note with a rich and flavorful aroma. Clear and light, the aroma brings the summer herb garden inside on those cold winter days when shorter days may require an emotional boost.
Chemical Families: Monoterpenes, Oxides, Sesquiterpenes
Therapeutic Properties:
Antibacterial
Reduces severity of nausea or vomiting
Helps relieve cramps
Helps clear the head and increases focus and concentration
Expectorant-removes excess mucus from respiratory system
Some Suggested Applications:
Add to oil or cream and rub in chest to minimize a spasmodic cough
Blend with Lavender and Peppermint to help reduce a headache
Wonderful in a diffuser with grapefruit essential oil to uplift, awaken and refresh
Add to 1  tablespoon of Jojoba oil and pour in a tub of cool water. Soak feet for 15 minutes. Refreshing and soothing
Blends well with: The citrus oils, Marjoram, Lavender, Rosemary and Peppermint. 
A Recipe Using Sweet Basil: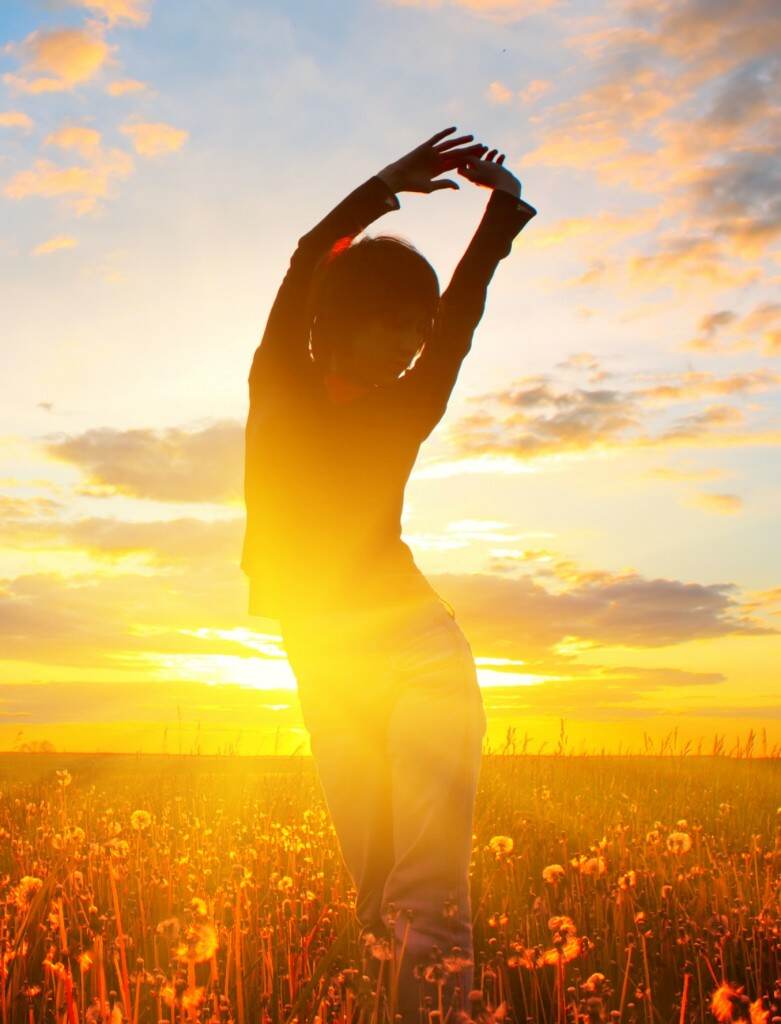 Good Morning Sunshine! Morning Spray
One of my very favorite oil combinations is Basil and Grapefruit. I frequently spray this blend around the house as I'm getting my family up in the morning.
Ingredients:
1 oz glass spray bottle
distilled or spring water
10 drops Basil
10 drops Grapefruit
5 drops Orange (optional – makes it a little sweeter)
Shake each time before using as the water and oil will separate.
Subtle Properties (vibrational and energetic): Basil has long been known to offer energetic protection as well as increasing abundance and prosperity.  Basil will uplift the spirit and sharpen the mind.  If you have trouble keeping mental focus, they this affirmation in conjunction with Basil:  "I am able to concentrate on what needs my full attention now. My mind is clear and alert".
Safety Information:  The linalol chemotype is safe on the skin. Robert Tisserand's recommendation for linalol chemotype is maximum topical application of 3%.
If you'd like to past Fragrant Friday posts,
check out the Fragrant Friday Archives
Related Posts: