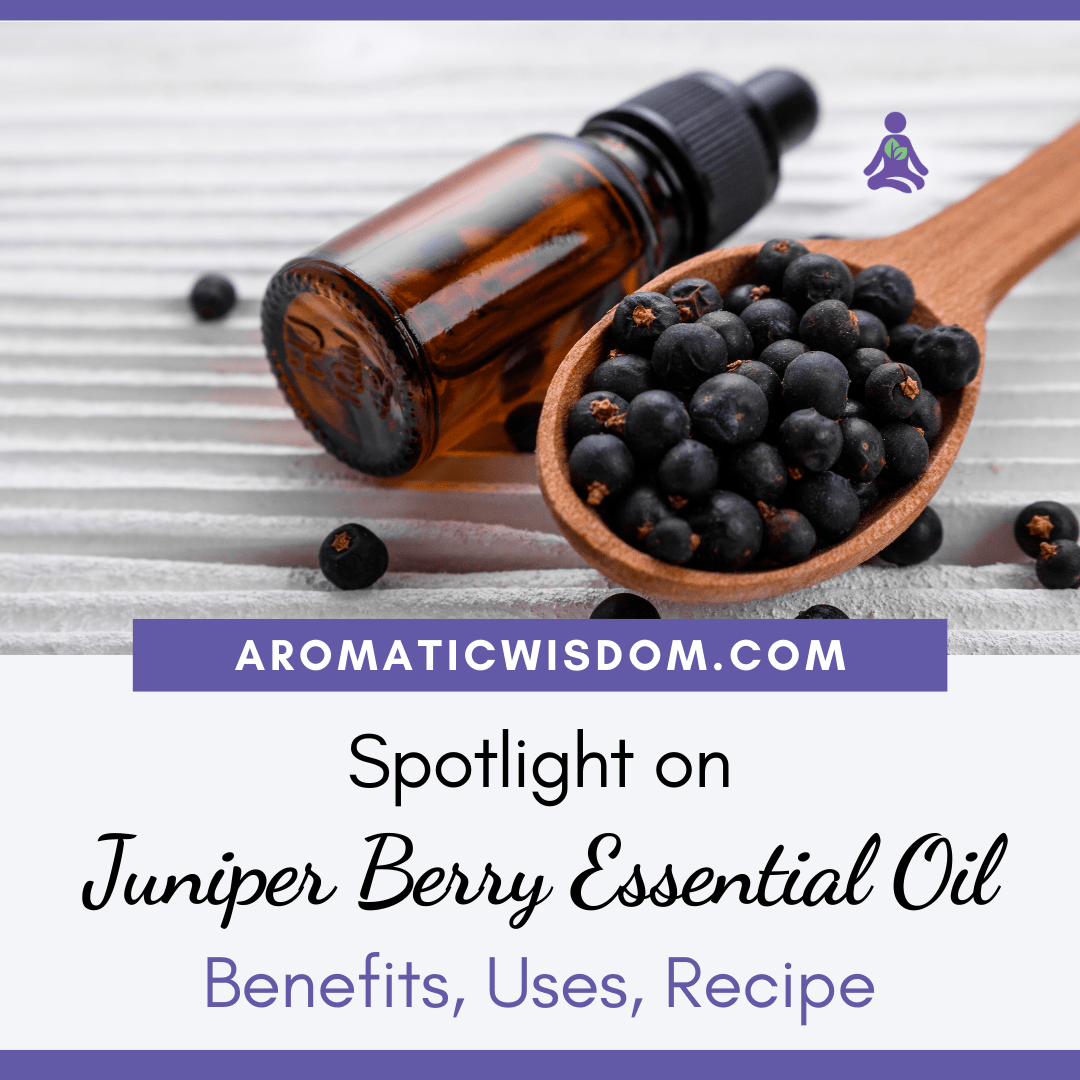 ---
Today's featured essential oil  has a more subtle aroma than other oils from the conifer family,
but it is equally potent in its energetic, emotional and healing properties.
Essential Oil of Juniper Berry
Juniperus communis

---
The Foundations
Geographical source: Juniper Berries are traditionally found in Macedonia, Croatia, and India.
Plant Part: The essential oil is steam distilled from the fruit.
Oil Characteristics: Juniper Berry is clear with a fresh, masculine gin-like odor.
Chemical Families: Monoterpenes and Sesquiterpenes  Note: The essential oil chemistry of the berry is considered more complex than the oil extracted from the leaves and twigs, and is suggested for aromatherapy use.
---
Therapeutic Properties of Juniper Berry Essential Oil:
Antibacterial

Helps prevent and relieve chronic rheumatic pain and inflammation

Antispasmodic – relieves spasms and cramps

Contracts and tightens tissue and increases blood circulation

Juniper is a fabulous detoxifier.  Its diuretic properties make it helpful for edema.  Since it stimulates the kidneys, be mindful of using it when there are kidney issues

.

Increases blood flow and circulation

Warms the area of application
---
Some Suggested Applications:
Add to any massage blend that is designed to ease the discomfort of rheumatism or arthritis.

Combine 15 drops Juniper Berry, 15 drops Cypress, 10 drops Geranium to a warm bath and soak for 30 minutes to help with lymphatic circulation and detox from overindulgence in alcohol and food.

Helpful in skin care products for acne and oily skin.

Great when used in massage for athletes or anyone engaged in physical activity.
Blends well with: Try Geranium, Bergamot and Lavender (angustifolia) with Juniper Berry for a relaxing bath!
---
Want to Deep Dive into Juniper Berry? 
👇 Try this popular course👇

---
Solar Plexus Chakra Cleanser Energetic Recipe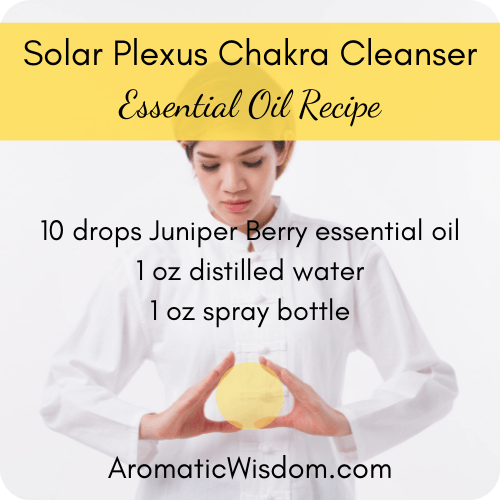 This recipe is great to clear away the energy of the people you've been close to
Try it after being with a negative client or if you just have a sense that your energy field is congested with too much energy or energy that is negative.
Solar Plexus Cleanser Essential Oil Recipe (energetic blend)
Ingredients:
10 drops Juniper Berry essential oil

1 oz distilled water

1 oz spray bottle
Directions:
Simply add the Juniper Berry to the 1 oz spray bottle, add the distilled water, close and shake well before every use (the oil and water will separate).  When you need to clear your energy field, especially your solar plexus chakra, close your eyes and spray above your head and allow the mist to fall on and around your body. Then spray in a clockwise circle over your solar plexus (just above the belly button).
---
Subtle Properties (vibrational and energetic):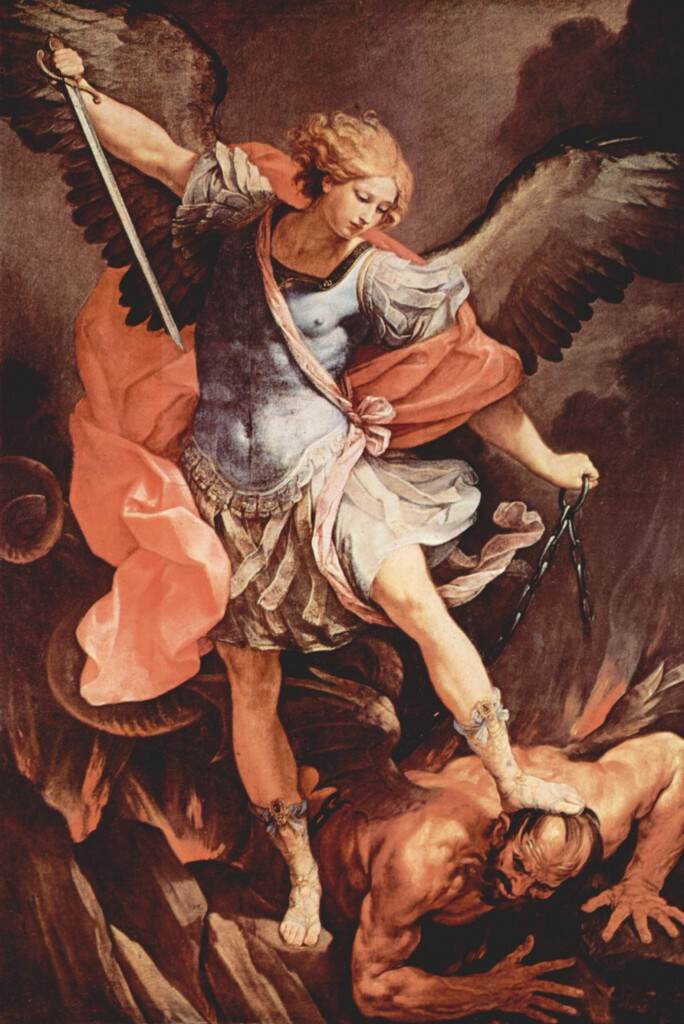 (photo: Michael the Archangel by Guido Reni, Santa Maria della Concezione, Rome, 1636)
Juniper Berry is the best essential oil to protect you from negativity and dark influences.  Just as it clears and detoxes our physical body, it is also an energetic cleanser, helping to detox the subtle energy bodies and dissipate energy blocks.
I have always associated Juniper Berry with St. Michael because of its strong energetic protection properties.  Juniper is one of the primary oils to protect from the negativity of others and is a wonderful detoxifier for negative energy that is in our path.
Juniper Berry is the essential oil to diffuse after an argument or when you sense negativity in a room.  When I've been to the mall where I'm surrounded by lots of people, I clear my solar plexus chakra when I get home to get rid of any unwanted energy that may have become mixed with my own.
---
If you'd like to learn more about clearing negative energy with essential oils,
check out my online mini course
 

Clearing Energy with Essential Oils

.
---
Fun Facts
Juniper is also known as geniver from which the word "gin" is derived.  There is evidence to support that Juniper Berry has been used by several cultures for purifying and ritual cleansing. It's use can be dated to Egypt-1550 BCE being used as a remedy for tapeworm, and by the Greeks and Arabs as a sedative.
Safety Information: Juniper Berry is non-toxic, though it may cause skin irritation or sensitization if oxidized. Use in low dilution in bath or massage.  Robert Tisserand states that the claims against Juniperus communis in pregnancy are not supported by research nor the specific oil's chemistry.
---
My Aromatic Wisdom SoulCollage® Card for Juniper Berry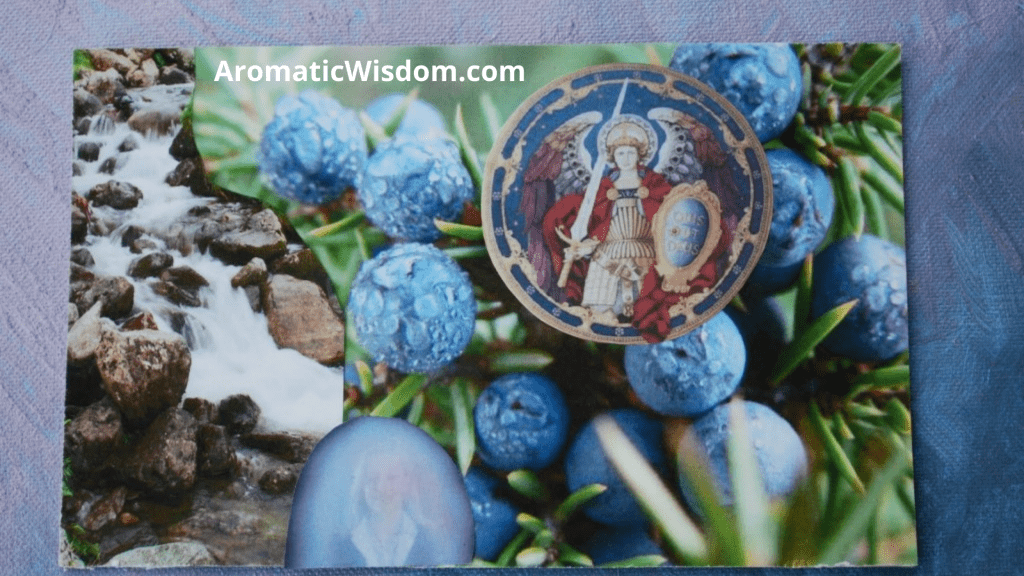 ---
Where to Buy Juniper Berry Essential Oil: 
You should know that I am very particular and selective in my oil purchases and only patronize those companies that will provide GC/MS evidence of testing. These best practices benefit us all!
My favorite supplier is NaturesGift.com This is not my company, nor do I receive any commission from them but I do use their essential oils in my classroom because of exceptional quality and customer service.
---
Please pin or share the image below

---
If you'd like to visit past blog posts that spotlight a single essential oil profile, check out the Fragrant Friday Archives
---
References: 
Lawless, Julia Lawless The Encyclopedia of Essential Oils (Updated Edition) (London: Harper Thorsons, 2014), 116-117.


Tisserand, R and Young, R. Essential Oil Safety (Second Edition. United Kingdom: Churchill Livingstone Elsevier, 2014), 314.

Akkol, E.K., Güvenc, A. and Yesilada, E. (2009) A comparative study on the antinociceptive and anti-inflammatory activities of five Juniperus taxa. Journal of Ethnopharmacology 125, 2, 330-336.
###
---
Related Posts: