Today's featured essential oil should be
in everyone's home pharmacy and first aid kit.
The remarkable antiseptic power of tea tree has been
one of the most researched, documented
and clinically proven of all the essential oils.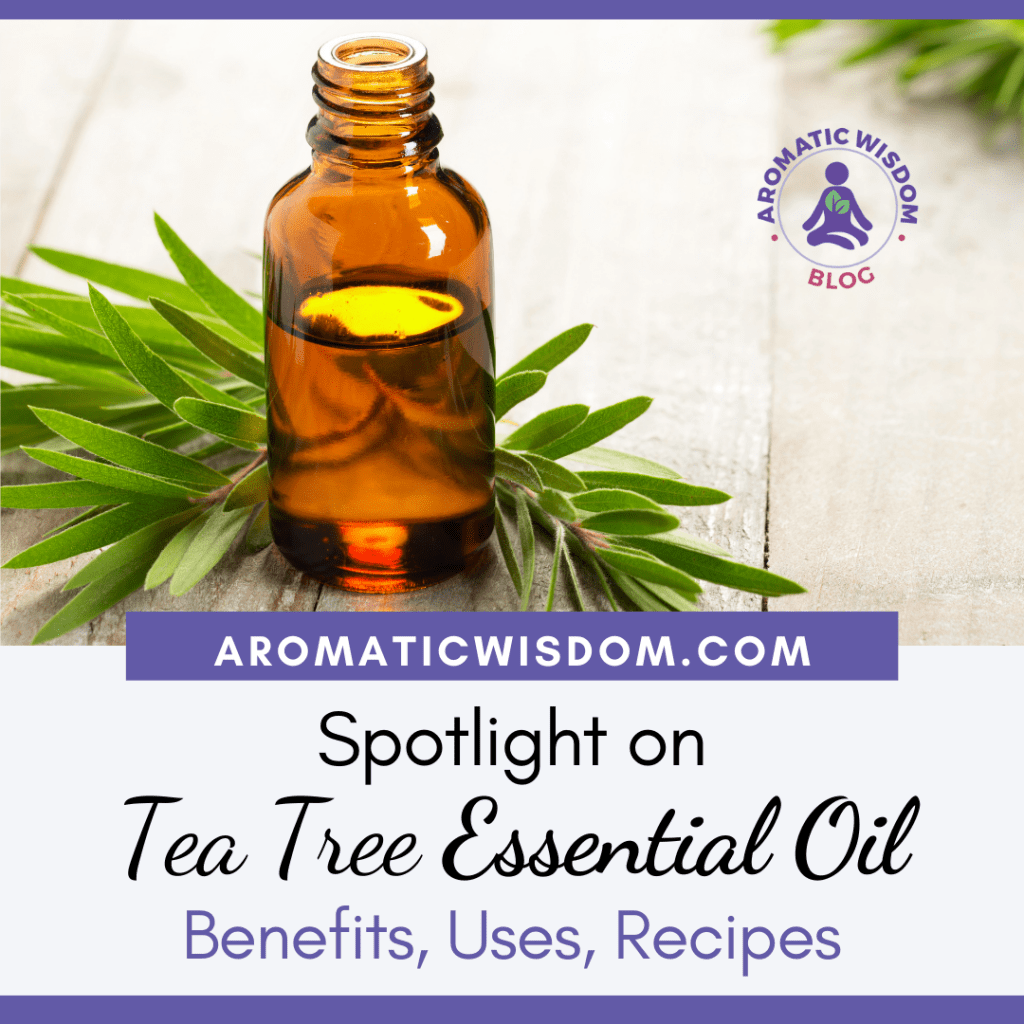 ---
Essential Oil of Tea Tree
(Melaleuca alternifolia)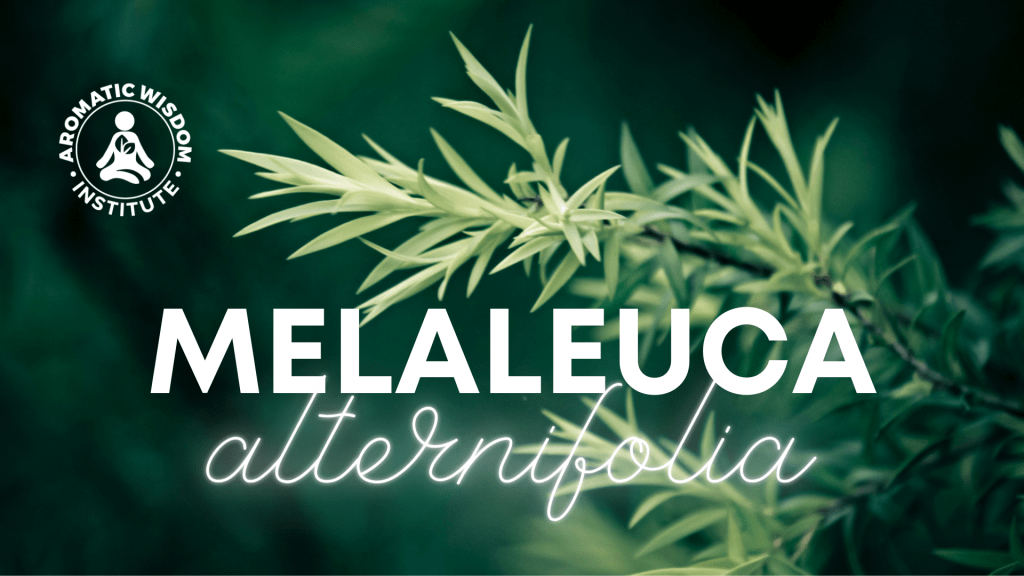 ---
My personal relationship with Tea Tree
In my aromatherapy classes, I love asking students who smell Tea Tree for the first time to give me their impressions. It tends to surprise people. Because it is not an olfactory delight like Bergamot or Lavender, and the reactions I get are everything from paint thinner to pepper. Personally, I get an image of antique furniture when I smell Tea Tree.My personal tea tree stories and experiences could fill a book.  Every time I watch the movie "Castaway", I think how poor Tom Hanks could have really used a bottle for his bad tooth or coral-gouged leg.  If I were only allowed to own one oil (perish the thought), Tea Tree would be the one.
---
THE FOUNDATIONS
Geographical Source: Australia, South Africa
Plant Part:  The essential oil is steam distilled from the leaves.
Oil Characteristics: A pale yellow-green or clear oil with a fresh, camphoraceous and medicinal aroma.
Chemical Families:  Primarily Monoterpenes and Monoterpenols
(To learn more about Chemical Families, listen to three of my most popular podcasts
---
Therapeutic Properties:
(Here's a glossary to help you understand therapeutic property terminology.)
Anti-inflammatory

Anti-fungal

Reduces nasal mucous production and swelling

Removes excess mucus from the respiratory system

Stimulates immune function
Applications: Tea Tree has the strongest impact on the skin and respiratory systems.  It's also great for mouth and gums.
(Here are some guidelines for making your own essential oil blends in a safe dilution.)
Sinus:  Use in a steam inhalation for sinus decongestion or to help avoid a sinus infection

Throat:  Gargle: 8 oz warm water, 2 Tblsp salt, 5 drops Tea Tree

Skin: put a dab on an infection or a pimple.
---
Two Personal Tea Tree Stories:
1. Many years ago, my brother Paul lived in Oregon and called me when he'd been hit by a car while riding his bike. He hadn't broken any bones but did suffer a multitude of scrapes, gouges, and cuts that were rapidly becoming infected. He called in a panic asking what oil he should use to help the infection. I urged him to limp to the nearest health food store and buy tea tree oil, apply a drop or two over each of his open wounds 2-3 times a day. He called back two days later. "little sister…what the heck IS this stuff? Everything is healing so fast!?"  Yep.
2. When my son Gianluca was in kindergarten, the school nurse sent him home on a Friday for an infection on his thumb. When we got home, I sat him down with a bowl of salt water laced with 3 drops of Tea Tree and had him soak his little thumb while he watched 2 episodes of Rug Rats. When were done with the soak, I put a drop on the infection and covered it with a bandaid. By Monday it was completely healed. The school nurse was so impressed she began to keep Tea Tree in her office.
---
Blends well with:  Personally, I never use Tea Tree in a blend for its aroma since it smells strongly medicinal, but rather for it's specific therapeutic action.
Subtle Properties: (vibrational and energetic):  Tea Tree helps you appreciate the divine gift of health and vital energy.
Safety Information:  Non-toxic, may cause skin irritation in people with sensitive skin. If oxidized it may cause sensitization.  Can be drying.
---
My Tea Tree SoulCollage™ Card:




I am a healing warrior 
I am a trusted companion on the path to health
I uplift and energize
I embody life-giving energy on all levels.  
---
2 TEA TREE ESSENTIAL OIL RECIPES
1. Bathroom Group Scrub
Ingredients:
15 drops Tea Tree essential oil (Melaleuca alternifolia)
15 drops Grapefruit essential oil (Citrus paradisi)
10 drops Peppermint essential oil (Mentha x piperita)
3 tablespoons liquid castile soap
1/4 T cornstarch
1 tablespoon white vinegar
1 C baking soda
Directions: In a 16 oz wide mouth container, add the baking soda, Castile soap, cornstarch and vinegar, mix, then add the essential oils. Add more vinegar or Castile soap as needed to make the consistency smooth and creamy.
To Use:  Add approximately 1 teaspoon of this mixture on a sponge to clean the shower, bathtub, bathroom sink; even the kitchen sink! The bathroom will smell clean and fresh and you won't have inhaled any dangerous chemicals in the process!
2. Yoga Mat Spray
Ingredients: 
10 drops Lavender (Lavandula angustifolia)
10 drops Tea Tree (Melaleuca alternifolia)
1 oz of Tea Tree Hydrosol in a spray bottle (you can also use water)
Directions: Add this blend together in a small spray bottle.  Use the blend to clean your yoga mat before and after your session. It will also create a lovely aroma in the room before you begin.
---
REFERENCES:
Julia Lawless, The Encyclopedia of Essential Oils (Updated Edition) (London: Harper Thorson, 2014), 189-190.

---
References:
1. Battaglia S. The Complete Guide to Aromatherapy. 2nd edition, The International Centre of Holistic Aromatherapy, Australia, 2003
2. Keville, K. Aromatherapy, A Complete Guide to the Healing Art, The Crossing press, USA, 1995
3. Mojay G. Aromatherapy for Healing the Spirit, Henry Holt and Company Inc., England, 1996
4. Price S. Aromatherapy for Health Professionals, 2nd edition, Churchill Livingstone, 1999
5. Schnaubelt K. Advanced Aromatherapy, The Science of Essential Oil Therapy, Healing Arts Press, USA, 1998
6. Nye, S. (2006) Aromatic interventions for decubitus ulcer: a case report from South Africa. The International Journal of Clinical Aromatherapy 3 (2B): 25-28
Related Posts: