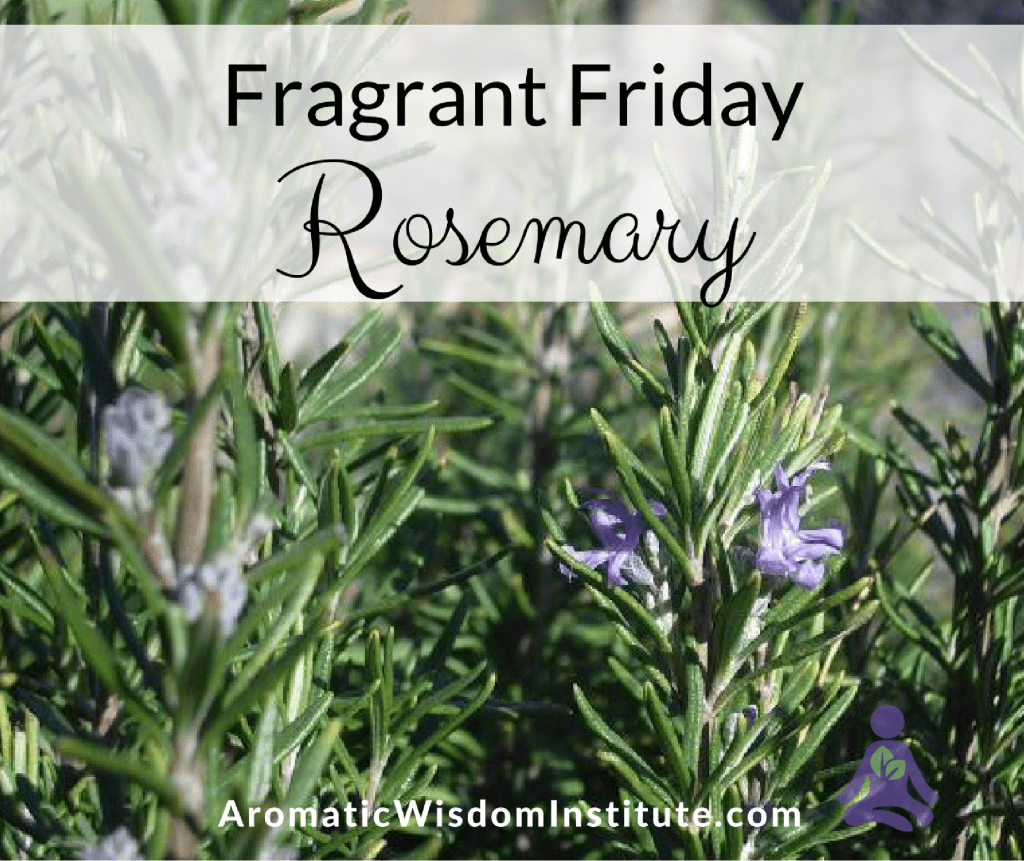 This Fragrant Friday is dedicated to my sister, Rosemary, who lost her battle with ALS on February 6, 2013.
Today's featured essential oil has a long history; in fact, it is one of the oldest recorded herbs in history. References to Rosemary were found written in cuneiform on stone tablets dating from the 5th millennium BC. Dioscorides, the first-century Greek physician, recommended it for its "warming faculty" and students in ancient Greece and Rome wore rosemary wreaths on their heads when in their studies. 
The Latin name Rosmarinus means "dew of the sea" because of its abundance around the Mediterranean and its association with the Venus, the goddess of love who was said to have sprung from the sea foam. 
Rosemary
Salvia rosmarinus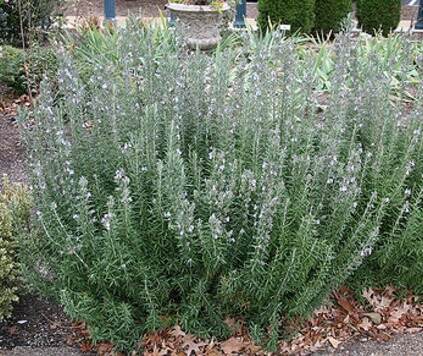 My Personal Relationship with Rosemary 
The Rosemary plant always reminds me of a fabulous trip to Tuscany in 1990 when I stayed with a family of vintners.  
They put me up in their exquisite guest cottage which was decorated with charming Laura Ashley bedding and curtains.  The cottage overlooked miles of Tuscan countryside. Just outside the french doors leading from the bedroom to the garden stood the largest Rosemary bush I've ever seen.  I kid you not, it was the size of a car! 
The photo below shows how Rosemary can get large and bushy, but it's still only one-third the size of "my" Tuscan Rosemary bush.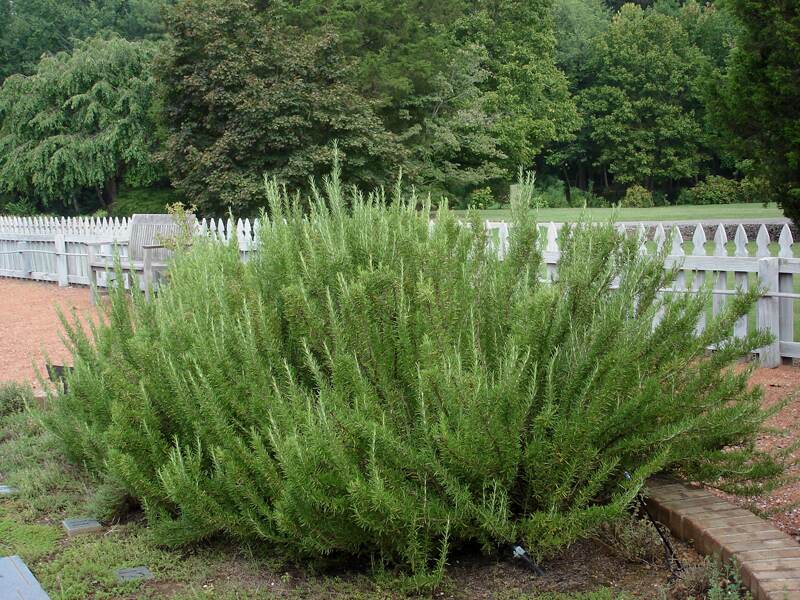 Geographical Source: Native to the Mediterranean region, now cultivated worldwide.  The Main oil-producing countries are France, Spain, and Tunisia.
Extraction:  The essential oil is extracted by steam distillation of the fresh flowering tops.
Characteristics:  Rosemary is a colorless or pale yellow mobile oil with a strong, fresh herbaceous scent and a woody-balsamic undertone.
Chemotypes:  There are three types of Rosemary so make sure you check your labels before purchase. You can find all three at NaturesGift.com: (PS. Want a 10% discount code for Natures Gift? Just ask me! liz@aromaticwisdom.com)
R. Officinalis ct camphor
R. Officinalis ct verbenone
R. Officinalis ct cineole
Therapeutic Properties:
Good for students to help clear the mind, and relieve mental and emotional fatigue.
Helps relieve headaches.
Useful for coughs, colds, and flu.
Cleansing to skin and hair.
Strong stimulant for the central nervous system.
Some Suggested Applications
Steam: use for respiratory problems. One drop in hot water.
Hot bath: use 2-3 drops in a daytime bath; can be too stimulating at night.
Excellent in massage oil for warming the muscles.
Blends well with:  The aroma of Rosemary is clean, herbaceous and penetrating. I like it with Sweet Orange, Marjoram and Lavender.
Morning Grouch Spray
10 drops Rosemary ct camphor
5  drops Lemongrass essential oil
3 drops Grapefruit essential oil
2 drops Basil essential oil
Mmmmmm this blend smells divine!
Add the essential oils to 2 oz of distilled or spring water in a spray bottle and spritz it in the air when you need to lift a bad mood!
Subtle Properties: (vibrational and energetic): According to author Joni Keim, the essential oil of Rosemary clears and cleanses the energy in a room.  It provides protection from negative influences and helps establish healthy boundaries in relationships.  Rosemary is associated with the Archangel Gabriel in the angelic realm.

Rosemary has the following effect on the energy centers:
Third Chakra:  Promotes self-confidence and strengthens will power.
Fourth Chakra: Inspires joyful love.
Sixth Chakra: Clears the mind and provides psychic protection.
Seventh Chakra: Helps us to remember our spiritual path.

A Fragrant Affirmation for Rosemary
"My mind is clear and centered.  My thoughts are focused and strong"
Safety Information: If oxidized, Rosemary can cause skin irritation or sensitization. People with epilepsy, high blood pressure, and pregnant women should avoid Rosemary, especially the camphor and 1,8 cineole chemotypes. Rosemary can be stimulating to the central nervous system so it's best to avoid nighttime use. With children, use at no more than 1% (5-6 drops total in 1 ounce of carrier).
My Rosemary Aromatic Wisdom Insight Card: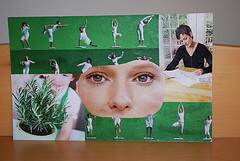 I am one who clears away the fog and invites mental clarity.
I am one who energizes you.
I am one who lifts your spirits and supports you in moving your body.
References:
1. Battaglia S. The Complete Guide to Aromatherapy. 2nd edition, The International Centre of Holistic Aromatherapy, Australia, 2003
2. Davis P. Aromatherapy an A-Z. New revised edition C.W. Daniel Company Limited, England, 1999
3. Keville, K. Aromatherapy, A Complete Guide to the Healing Art, The Crossing press, USA, 1995
4. Keim, J  Daily Aromatherapy, North Atlantic Books, 2006
5. Price S. Aromatherapy for Health Professionals, 2nd edition, Churchill Livingstone, 1999
6. Schnaubelt K. Advanced Aromatherapy, The Science of Essential Oil Therapy, Healing Arts Press, USA, 1998
7. Tisserand R. The Art of Aromatherapy, Healing Arts Press, USA, 1977
8. Tisserand R. Essential oils and hypertension – is there a problem?, 2010 (article)
Related Posts: