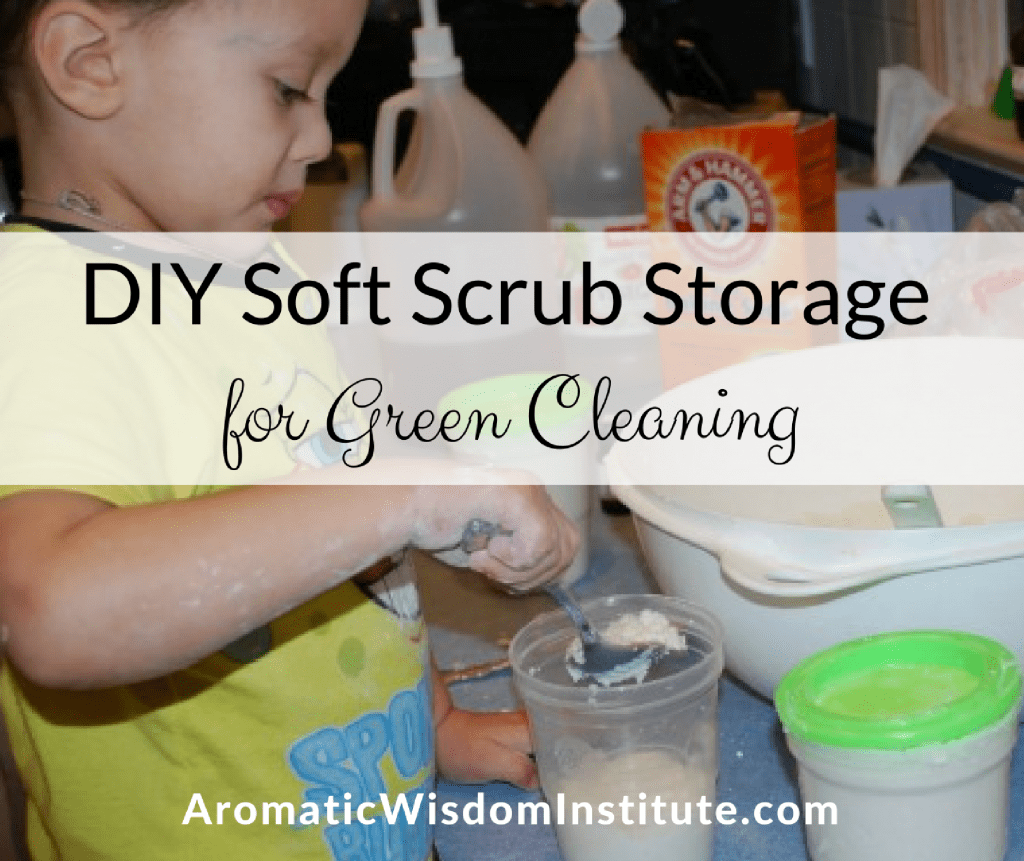 This scrub is so easy to make, my three-year-old grandson made a batch for his Mommy!
I've become completely enamored with natural cleaning. Let me be clear, I am not a woman who loves to clean. Given some free time, I'll write, read or surf the net before I run the sweeper or scrub the bathtub.   But since I like a bright, germ-free, fresh-smelling home, clean I must.
I don't like using commercial cleaning products for the following reasons:
• The products enter my lungs and absorb in my skin;
• The risk of exposing my family and pets to those toxins;
• In one way or another, they end up in our Earth;
• With my shopping dollars, I'm voting to keep them on the shelves.
Commercial cleaning ingredients vary in the type of health hazard they pose.  Some create skin or respiratory irritation, watery eyes, chemical burns, even hormonal disruptions, while others are associated with chronic, or long-term, effects such as cancer.  The Mayo Clinic warns that formaldehyde in our household and personal care products can irritate the respiratory system, cause skin reactions and trigger heart palpitations.
Accordingly to the Environmental Protection Agency, toxic chemicals in household cleaners cause women working at home to have a 55% higher cancer risk than women working outside the home.  Fragrances added to many cleaners, especially laundry detergents and fabric softeners, may cause such unpleasantness as respiratory irritation, headache, and sneezing in sensitive individuals or those with allergies.
The EPA warns that our homes are 70 times more toxic than outside. Doesn't that mean that the dirt in your house is less toxic than the chemicals you use to remove it?!
The Bottom Line
Keeping  your home clean, toxic-free and smelling wonderful, you don't need to spend a lot of money or use any commercial cleaning products.
You only need four items:
1) Baking Soda (supermarket)
2) White Distilled Vinegar (supermarket)
3) Organic Liquid Castile Soap
4) Organic Essential Oils – Why add essential oils to your homemade cleaning products? Because they are anti-bacterial, anti-fungal, boost your immunity (while you're cleaning!) and smell wonderful.
Why You Should Use Up Your Older Essential Oils 
Try to use up your older essential oils for this project. Why? Because when essential oils get old, you don't want to use them on your skin as they may become oxidized. This makes them a potential problem for skin sensitization. They'll still smell great for cleaning, but won't be skin safe.
These are my favorite essential oils to use in my own soft scrubs and other cleaners:
Lemongrass
Scotch Pine (any inexpensive conifer)
Grapefruit, Lemon and Orange
Scotch Pine
Spike Lavender
Easy to Make, No Chemicals, Great Smell, It Really Works Natural Soft Scrub!
Ingredients: 
2 C. baking soda
4 Tablespoons organic liquid castile soap
1 Tablespoon distilled white vinegar
40 drops organic essential oils of Lemon, Peppermint, Pine, Lemongrass (any preferred aroma really. It's also a great way to use up older oils to avoid skin sensitization).
Directions:
Mix and store in a sealed wide-mouth container. Shelf life is about two years.
Tip: For really tough jobs, spray with the distilled vinegar first, let it sit then follow up with the scrub.
Note:  Sometimes this product dries out.  If that happens, just add a little distilled vinegar or liquid castile soap and stir.  It will be good as new!
Want to learn more about
Green Cleaning with Essential Oils?
Check out my online course by clicking the photograph below!
Related Posts: