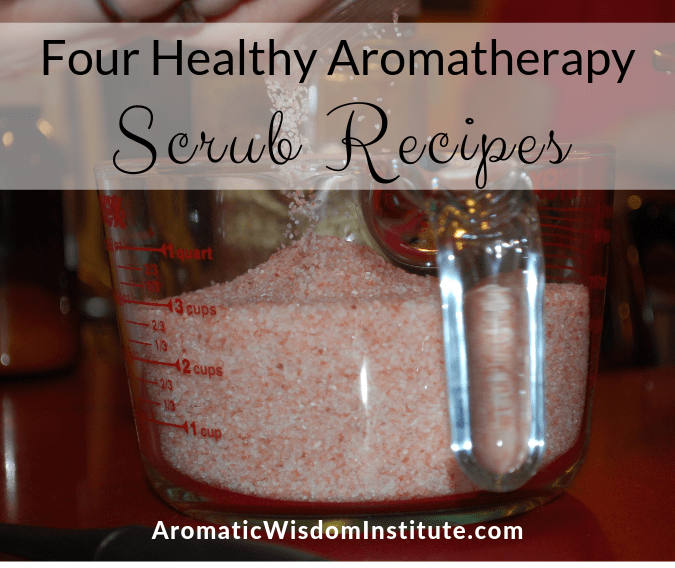 Have you discovered the awesomeness of body scrubs yet?
They are SO easy to make and are a great addition to your shower routine.  They also make wonderful gifts!  I don't recommend using them daily, but a few times a week is fine.
Directions for all the scrubs:
Pour Himalayan Pink salt into an 8-ounce PET Plastic wide mouth jar (not glass because the container gets slippery)
Add the carrier into the salt, then the essential oils. Stir…that's it!
I have included one scrub recipe just for the face; notice it contains sugar instead of salt.  Salt can be drying to facial tissue.  Actually, you can substitute the salt for brown sugar in any of these blends.  But…No licking!
Keep your scrub in the shower and scoop out a handful, rub on your body then rinse! Your skin will feel soft and the essential oils will give you an aromatic healthy boost!
"Clear the Crud" Detox Scrub
4 oz Himalayan Pink Salt
4 oz Jojoba Oil
15 Drops of Juniper Berry essential oil (Juniperus communis)
10 Drops of Rosemary essential oil (Rosmarinus officinalis)
5 Drops of Grapefruit essential oil (Citrus paradisi)
"You're Getting Very Sleepy" Bedtime Scrub
4 oz Himalayan Pink salt
4 oz Jojoba Oil
10 drops Lavender essential oil  (Lavendula angustifolia)
10 drops Roman Chamomile essential oil (Chamaemelum nobile)
5 drops of Sweet Orange essential oil (Citrus sinensis)
"Breathe Easier" Respiratory Support Scrub
4 oz Himalayan Pink salt
4 oz Jojoba Oil
20 drops Tea Tree essential oil (Melaleuca alternifolia)
10 drops Spike Lavender essential oil (Lavendula latifolia)
10 drops Ravintsara essential oil (Cinnamomum camphora ct 1,8 cineole)
"Rejuvinate and Glow" Facial Scrub
4 oz Organic Brown Sugar
1 oz Jojoba Oil
3 oz Virgin Coconut Oil
10 drops Carrot Seed essential oil (Daucus carota)
10 drops Frankincense essential oil  (Boswellia carterii)
5 drops Ho Wood essential oil (Cinnamomum camphora ct. linalol) 
All essential oils and other materials to make these recipes can be purchased with the discount code 'wisdom" from NaturesGift.com.
Do you have a scrub recipe you love?  Please feel free to share it in the comment section below!
 
Related Posts: