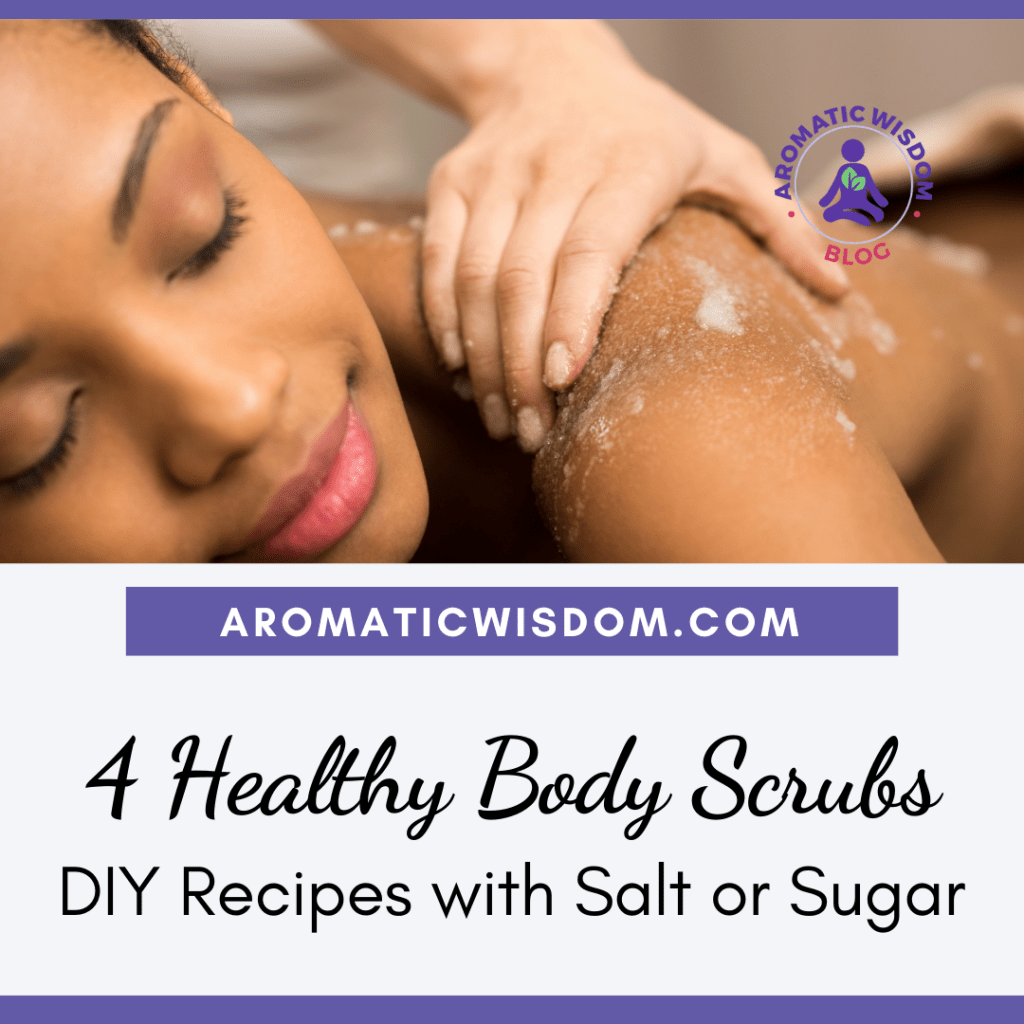 Have you discovered the awesomeness of body scrubs?
Scrubs are SO easy to make and are a great addition to your shower routine.  They also make wonderful gifts!  I don't recommend using them daily, but a few times a week is fine.
In my 24 years of teaching, I've discovered that body scrubs – whether made with salt or sugar – are all terrific products for beginners because it's hard to make a mistake. Remember to always stay within the parameters of safe blending dilutions. 
🌸 Scrubs are a fun, easy and satisfying blending project for new learners. 
🌸 Use this product as an opportunity to experiment with different carriers on your skin and the effect that different sized sugar or salt crystals have on the skin.
🌸 Scrubs can be made to be relaxing, invigorating, therapeutic or just an aromatic delight!
🌸 You can make scrubs for the entire body or just for tired feet or dirty hands after a day in the garden.
🌸 The options are limited only by your imagination!
Directions for DIY Body Scrubs
1. Purchase a high quality Pink Himalayan Salt. I like Extra Fine Grain because it's more gentle for the skin.
 
OR Organic Brown Sugar


2. Pour your salt or sugar into an 8-ounce PET Plastic wide mouth jar (not glass because the container gets slippery)
3. Add your chosen carrier oil into the salt or sugar. I love jojoba oil because of the long shelf life and its affinity for all types of skin.  However, if you use Fractionated Coconut Oil and Pink Himalayan Salt, the scrub will be a lovely pink color! 
4. Add your chosen essential oils and stir everything with a glass stir rod.
5. Add a waterproof label and Viola! EasyPeasy!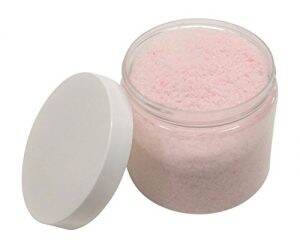 Below are four of my favorite scrub recipes:
I have included three recipes for salt scrubs and one recipe for a sugar scrub for the face; notice it contains brown sugar instead of salt. Salt can be drying to facial tissue. Actually, you can substitute the salt for organic brown sugar in any of these blends.  But…no licking!
Keep your scrub in the shower and scoop out a handful, rub on your body then rinse! Your skin will feel soft and the carrier plus the essential oils will give you an aromatic healthy boost!
"Clear the Crud" Detox Scrub
4 oz Himalayan Pink Salt (extra fine) 
4 oz Jojoba Wax
15 Drops of Juniper Berry essential oil (Juniperus communis)
10 Drops of Rosemary essential oil (Rosmarinus officinalis)
5 Drops of Grapefruit essential oil (Citrus paradisi)
"You're Getting Very Sleepy" Bedtime Scrub
4 oz Himalayan Pink salt
4 oz Jojoba Oil
10 drops Lavender essential oil  (Lavandula angustifolia)
10 drops Roman Chamomile essential oil (Chamaemelum nobile)
5 drops of Sweet Orange essential oil (Citrus sinensis)
"Breathe Easier" Respiratory Support Scrub
4 oz Himalayan Pink salt
4 oz Jojoba Oil
20 drops Tea Tree essential oil (Melaleuca alternifolia)
10 drops Spike Lavender essential oil (Lavandula latifolia)
10 drops Ravintsara essential oil (Cinnamomum camphora ct 1,8 cineole)
"Rejuvinate and Glow" Facial Scrub
4 oz Organic Brown Sugar

1 oz Jojoba Oil
3 oz Virgin Coconut Oil
10 drops Carrot Seed essential oil (Daucus carota)
10 drops Frankincense essential oil  (Boswellia carterii)
5 drops Ho Wood essential oil (Cinnamomum camphora ct. linalol) 
Do you have a scrub recipe you love?  Please feel free to share it in the comment section below

!

Related Posts: