No matter how careful we are, it seems that we just can't get through summer without a least one episode of sunburn; even a mild one. You're most likely already familiar with the naturally cooling and skin healing effects of Aloe Vera gel, but did you know that you'll have even better results if you add a few drops of Lavender essential oil to your aloe? Read on to learn a super simple and effective all-natural sunburn remedy!
Updated on November 13, 2022, for accuracy and relevance.
This blog post may contain affiliate links which means I may receive a small commission if you make a purchase using them. The commission is paid by the retailer at no extra cost to you.

 
Lavender Essential Oil (Lavandula angustifolia) Benefits to Burned Skin
Lavender is the most effective essential oil for treating and healing a sunburn or windburn. It offers a delightfully fresh and soothing effect. When Aloe Vera gel and Lavender essential oil are used together, it not only cools hot skin but helps to decrease pain, prevent infection, reduce inflammation and lessen skin peeling.
Burned skin is tender, so I recommend a spray instead of dabbing or rubbing.
Aloe Vera Gel (Aloe vera barbadensis) Benefits to Burned Skin
Aloe Vera is a well-known effective treatment for any kind of skin burns, sunburn, windburn, hot oil, oven, etc. It will help reduce inflammation and is a good moisturizer. In a study of twenty-seven patients with partial thickness burn wounds were treated with aloe vera gel compared with vaseline gauze. It revealed the aloe vera gel-treated lesion healed faster than the vaseline gauze area.
Lavender Essential Oil DIY Recipe
Liz's Sunburn Soother Spray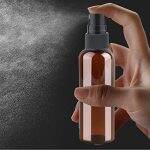 Instructions: Combine the Aloe vera gel, the Lavender hydrosol, and the Lavender essential oil in a 2 oz/60mL spray bottle. If you don't have Lavender hydrosol, you can use a full 2 oz of the Aloe Vera gel. Keep this blend in the fridge. Double the recipe and make two bottles, one for home and one for work for a mid-day face refresher/cleanser (keep away from the eyes).
And finally, here's a light yet informative sunburn blog post written by Christine, a Midwest doctor.
Where to Buy Essential Oils
Suggested Essential Oil Suppliers – with GC/MS reports
Suggested Essential Oil Suppliers – without GC/MS reports
References
Pubmed: Effect of aloe vera gel to healing of burn wound: A clinical and histologic study
Related Posts: