---
Welcome to the Aromatic Wisdom Podcast!
In Episode 036, I cover an important topic for all users of essential oil that can make a huge impact when using them on your skin. 
In this episode I talk about:
How using certain oils followed by exposure to UV light can damage the skin.

The difference between phototoxicity and photosensitivity

The chemistry behind essential oil phototoxicity

The signs of a phototoxic reaction (with real-life examples that I've witnessed)

A list of essential oils that are phototoxic and those that are not

Listen as I share the story of the Lime phototoxicity accident in the picture below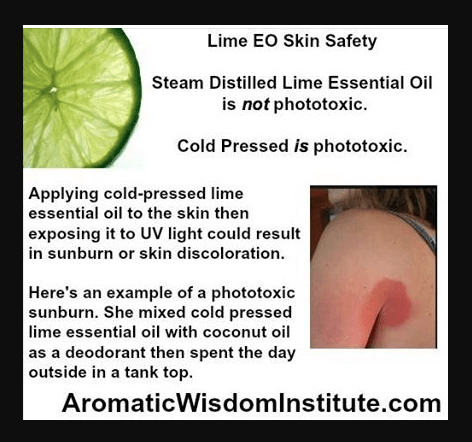 Enjoy the podcast! It is my sincere hope that you will feel inspired to explore essential oils deeper after listening and learn what is possible for your health and well-being when you include aromatherapy into your life.
Click here to leave an iTunes review


Related Posts: