"Then took Mary a pound of ointment of Spikenard,
very costly, and anointed the feet of Jesus"
John 12:3
Nardostachys jatamansi
---
My personal relationship with Spikenard:  Being a "type A" personality, I've loved Spikenard from the first sniff. Spikenard has the same effect on my nervous system as Vetiver. It's deeply calming and helps bring me back to center when I begin overthinking projects and moving too quickly from one thing to another. When I inhale this earthy oil, I swear I can feel it right down to my root chakra. 
Note:  Base  (To learn more about aromatic notes, this blog post explains them)
Geographical source: India, Nepal
Plant Part: Roots 
Extraction Method: Steam Distilled
Oil Characteristics: Spikenard is Earthy, heavy, sweet and musty 
Chemical Families: Sesquiterpenes, Sesquiterpenols.  (To learn more about Chemical Families, listen to one of my most popular podcasts. Aromatic Wisdom Podcast Episode 008.)

Therapeutic Properties:  (Here's a glossary of therapeutic terms that will help you understand the terminology.)
Grounding, help bring you back to earth 

Deeply calming to the central nervous system

Great to promote sleep

Helps inhibit the growth of fungus 
Subtle Properties: (emotional and energetic): Spikenard resonates with the base chakra. It's a beautiful essential oil when you want to encourage forgiveness and return to emotional balance. It relaxes the mind so help slow down excessive thinking. 
Applications: (Here are some guidelines for making your own essential oil blends in a safe dilution.)
Add a drop of Spikenard and a drop of Ylang Ylang to any blend for anxiety and insomnia. 

Helpful in antifungal blends (especially when mixed with lemongrass) as it has some antifungal activity of its own.

It's been used successfully to deal with tachycardia. 

A great bug repellant
Liz's Suggested Recipe:
Get a Good Night's Sleep
3 drops Spikenard 
1 drops Neroli
1 drop Lavender essential oil
1 oz organic unscented lotion 
Directions: Mix the essential oils into a 1-ounce jar of unscented lotion, stir and apply to the chest, shoulders, and neck while repeating this affirmation: I enjoy a deep, refreshing sleep every night.
Safety Information: Non-toxic, non-irritating. 
Where to Buy: You can find exceptional essential oils at NaturesGift.com. I use all their products in my personal blends and in my classroom because of the high quality and fabulous customer service.
If you'd like a 10% discount when you order from NaturesGift.com just for being an Aromatic Wisdom Blog reader, send your name and email and get the discount code! 
References:

1. Battaglia S. The Complete Guide to Aromatherapy. 2nd edition, The International Centre of Holistic Aromatherapy, Australia, 2003
2.
2. Mojay G. Aromatherapy for Healing the Spirit, Henry Holt and Company Inc., England, 1996
3.
3. Worwood, Valerie Ann, Aromatherapy for the Soul, New World Library, 1999
---
Do you have a place to keep all your blend recipes? If not, consider My Book of Blends.
I created it for myself and realized so many other aromatherapists could use such a book.
With over 150 pages to name, rate, make detailed notes, list out the number of drops used and
carrier oils used in your recipes, this book is the perfect place to keep them
safe all in one, easy to use space.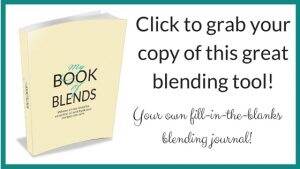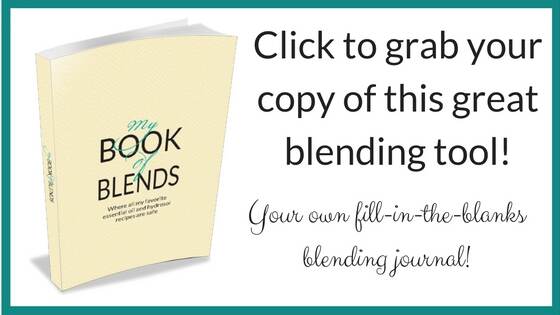 Related Posts: