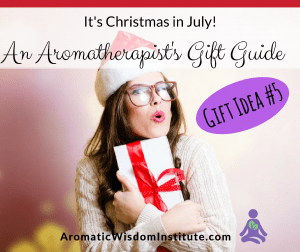 Gift Idea #5: Aromatherapy Stocking Stuffers
This is the last of your 5 aromatherapy gift ideas for the holidays, or any time of year.  If you missed the first four, scroll down to the bottom of this page for the links.
Before we get to the stocking stuffers, here are a couple of tips on using this list to help show your friends or loved ones what they can give you this holiday season.
How to Use This List:  
1. Open the lists in 5 different tabs, hand the computer to your loved one and say, "Here ya go…just take your time and Surprise me!"
2. Go through the lists yourself, find what you want, hand the computer to your loved one and say, "THIS is what I want."  Feel free to do that more than once.
I had a ball putting this stocking stuffer list together and could have added so much more. There are a million little treasures available to aromatherapists now that could easily fill a stocking. (As always, here's my disclaimer that some may be affiliate links where I would get a tiny bit of money if you purchased from that link, with no extra cost to you.)
Olilia Essential Oil Bottle Opener – $5.99

This little tool will save your fingers when you remove the plastic orifice reducer (plug) from your essential oil bottles. Ask for two in case you lose one 🙂
---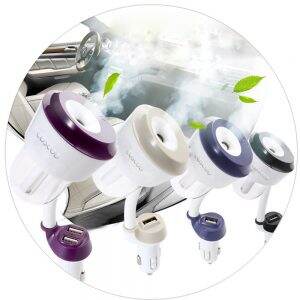 Car Diffuser + Humidifier –  $16.99
I LOVE the idea of this product, but haven't tried it yet. It is definitely on my personal wishlist this year (purple of course).  I spend a lot of time in the car and it gets terribly dry with the heat on. This gadget will keep the air moist and aromatic while you drive, and it even has a USB port so you can charge your phone at the same time!
---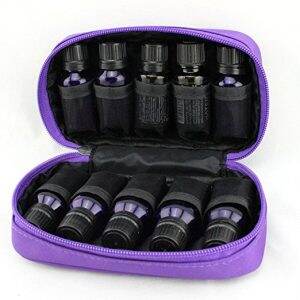 Essential Oil Travel Case – holds 10 bottles – $11.50
This pretty little case holds three sizes of bottles – 5ml, 10ml, 15ml.
Travel Idea:  carry 6-8 essential oils in 5 ml bottles + two 15ml bottles with carrier.
Organization Idea: Keep one case just for a "collection" as I shared in yesterday's wishlist post here.  Keep one case for your "blue oil collection", one case for your "Australian collection" and yet another case for your "everyday oils".  A cool way to keep them organized. You could even get different colors for different collections.
---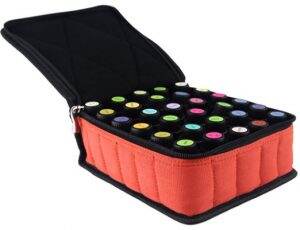 Essential Oil Travel Case – hold 30 bottles – $18.99
You could use this case for travel or get two or three for your entire supply of essential oils.
---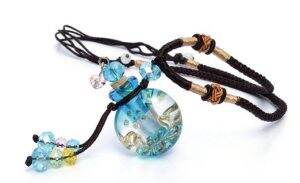 Handmade Glass Pendant Diffuser – $9.99
There are loads of pendant diffusers out there, but my personal preference has always leaned toward the handblown glass.  This one is not expensive yet looks like it should be home to something precious, like a drop of Frankincense or Jasmine.
---
Anything by Pixieglassworks.com!  
Everything this website sells is made of handblown glass items that are designed to hold essential oil.
You'll find pendants, earrings, zipper pulls and pens.  Below are some images to give you an idea, but the website has a bigger selection.
You're welcome 🙂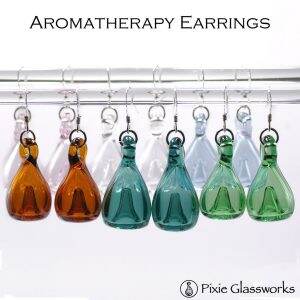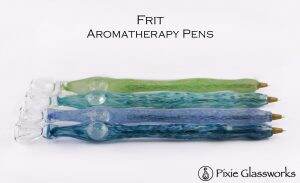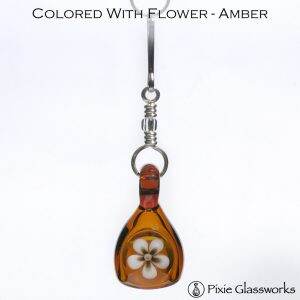 They even carry Aromatherapy Zipper Pulls
---
In case you missed the previous Wish Lists, you can find them here:
Gift Idea #1 – Subscription to Professional Trade Journal
Gift Idea #2 – A Membership to a Professional Aromatherapy Association
Gift Idea #3 – An Elegant Diffuser for your Home or Office
Gift Idea #4 – Create a Custom Essential Oil Learning Collection
That's it for your 5 aromatherapy gift ideas!
Did you enjoy these lists?
Were they helpful in giving you ideas of
things to give and ask for this holiday season?
I'd love you to leave me a comment below
and tell me your favorite thing you found!
Related Posts: