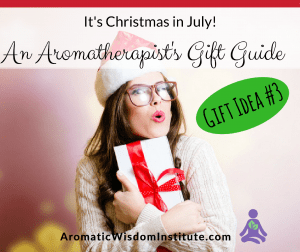 Gift Guide Idea #3 
An Elegant Diffuser for your Home or Office
If you've searched for essential oil diffusers online, you know it's a rabbit hole you can fall into for hours.
Lucky for you, I've done some research and am happy to share a nice selection of cool mist diffusers that will be both lovely as well as functional for your home, office or treatment room.  As far as I'm concerned, one can never have too many diffusers!
I have divided the diffusers into three categories
Home/Office under $100
Home/Office over $100
Travel-size
Although I haven't tried all of these devices, I've made a careful selection based on positive reviews, quality of materials, and visual appeal.  Note that some of the diffusers may have affiliate links which means if you purchase one, I would receive a small commission at absolutely no extra cost to you.
Get comfy, grab a cup of herbal tea and let's go!
Diffusers for your Home or Office under $100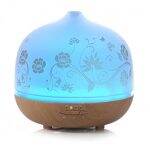 ISelector – Etched Glass – 7 Changing Colors – 500 ml – $49.99 
---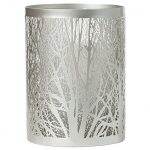 Metal & Glass – Flickering Candle Effect – Remote Controlled – 110 ml – $63.98
---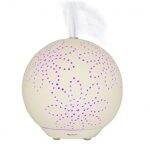 Ceramic – Sweet Floral Pattern – 100ml – $26.99
---
Wood Grain – With a strip of colored light – 400ml – $45.99
---
Lull by Quooz – In 6 colors – LED adjustable brightness – quiet – 200ml – $59.95
I not only own this sleek diffuser, I've given about four or five as gifts. Each of the six rich colors are stunning and it's whisper quiet.  It puts out a strong, mesmerizing mist with lots of aroma. If you would like a discount code for this diffuser, just email me with Pompeii Diffuser in the subject line:  liz@aromaticwisdom.com
---
Ecooltronic – Wood Grain – 300 ml – $39.99
---

Diffuser for your Home or Office over $100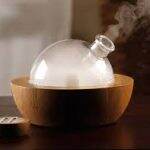 Puzhen 5-Sense Yun Aroma Diffuser – Maple – $337.99
I own this gorgeous creature and there's a reason it has a hefty price.  It's the Cadillac of diffusers. I've linked this product to Amazon because it's more affordable than on the Puzhen website.  I honestly don't understand the few negative reviews. I love this diffuser.  It's incredibly well-made, has 3 LED color changes (blue/purple/white), comes with soothing built-in music and chimes, or you can hook it up to your smart phone and have it play your own music.  It operates with a remote. If  you've been very very good this year, I'd say you deserve it.
---
Travel-size Diffuser
Benry – 4 timer settings – 7 color LED light – quiet – strong mist – 65ml – $15.85 
I own this little gem and plan on getting more. It makes a wonderful gift for yourself or someone who travels because it can be used with a USB port, in the car or with a plug in the wall.   I recently took this diffuser with me on a trip through Washington, Montana, Wyoming, Idaho and Utah.  It's small enough to squeeze into the corner of your suitcase, but powerful enough to fill a large hotel room with aroma.
---

Wasn't that fun?
Are you starting to get a long list of goodies to ask for this year?

Leave me a comment below and let me know
which diffuser you want this year!

Look for Gift Guide Idea #4 on July 24th!
---
Related Posts: