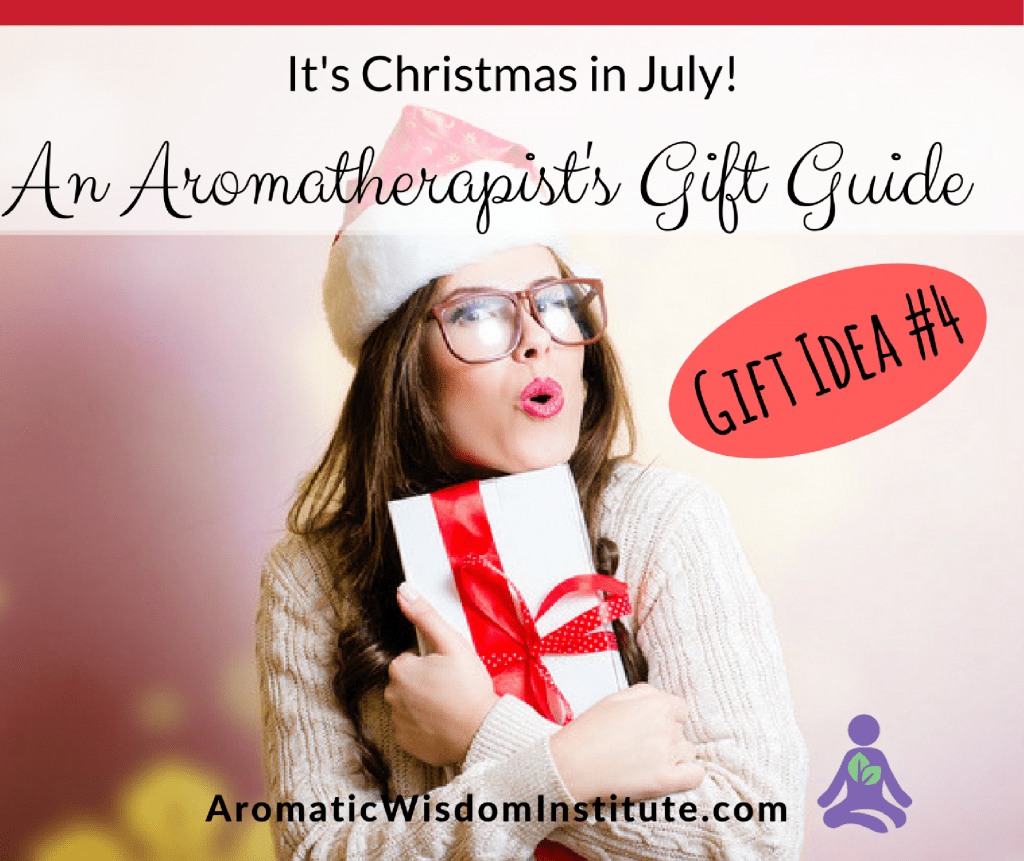 Gift Idea #4
Create a Custom Essential Oil Learning Collection
Giving an essential oil for the holidays is a gift that keeps on giving. Each time the recipient adds a few drops to a diffuser to scent their home or as part of their natural cleaning, they experience your gift.
If someone expresses an interest in gifting you a bottle of essential oil, why not ask for specific oils that will help you learn something new. For example, how about three different species of Lavender or Eucalyptus that you can sniff and compare?
Below are just a few ideas that are meant to be a springboard to spark your imagination for this holiday season, and give you ideas for how you can use them to augment your aromatherapy knowledge and experience!
Discover Different Lavender Species:
Begin to build a Lavender species collection to sniff and compare and to blend with.  You'll be amaze at how different Lavenders are from species to species.
Try Lavendula angustifolia, L. latifolia, L. intermedia, L. spica OR ask for this comprehensive Lavender species sampler sold by my friend Marge Clark at NaturesGift.com.  It has eleven different lavenders!
Listen to this podcast episode to learn more about Lavender species AromaticWisdomInstitute.com/022
Discover Different Eucalyptus Species:
Like Lavender, Eucalyptus has many species, and some are quite varied both aromatically and therapeutically.
Here are some suggestions of oils to ask for to begin your Eucalytpus species collection:
Eucalyptus globulus, E. radiata, E. dives, E. citriodora, E. plenissima, E. masala, E. polybractea, E. smithii
Start a Collection of Conifers
There are loads of conifer essential oils.  I've always wanted to buy one of every conifer available. You could start a great collection with the new conifer set from PompeiiOrganics.com which includes: Hemlock, Balsam Fir, Siberian Fir, Scotch Pine, White Pine, Black Spruce and White Spruce.  You'll really know your conifiers after blending with this stunning and vibrant group of essential oil!  You can find the set at pompeiiorganics.com/conifer-set/
Create your own custom Chakra Kit 
Create your own chakra kit by handpicking one of 7 essential oils from this chart pompeiiorganics.com/by-chakra
Create a Compilation of "Blue Oils"
Ask for essential oils that will get you started on a fabulous collection of "blue oils". These are all famous as anti-inflammatory oils and each has a beautiful indigo color.  Make sure you get the safety information for all these oils, especially the Blue Artemis:
Blue Cypress – Callitris intratropica
Cape Chamomile – Eriocephalus punctulatus
German Chamomile – Matricaria recutita
Blue Tansy – Tannacetum annuum
Yarrow – Achillea millefolium
Blue Artemis – Artemisia arborescens
Create a Chemical Family Collection
If you're learning about essential oil chemistry, how about asking for one oil from each of the chemical families, especially if it's one you don't already own. Learn more about the Importance of Learning Chemistry at AromaticWisdomInstitute.com/008. 
Create a Resin Collection
Who doesn't love an exotic, skin-loving, nerve-setting tree resin?
Frankincense – Boswellia carterii
Myrrh – Commiphora myrrha
Opopanax – Commiphora guidotti
Elemi – Canarium luzonicum
Balsam Copaiba – Copaifera officinalis
Become a CO2 Connoisseur
Begin a collection of CO2s and learn to compare the CO2 of a plant with the essential oil (for example learn to distinguish the difference between the CO2 of Lavendula angustifolia versus the essential oil of L. angustifolia)
Both NaturesGift.com and SunRoseAromatics.com sell beautiful CO2s, and some are quite exotic like Butter CO2 and Amaranth Seed CO2.
Make a Chemotype Comparison Collection
Ask for several different chemotypes of one species, like Basil, Rosemary or Thyme. You can read more about chemotypes in my blog post on taxonomy here: AromaticWisdomInstitute.com/essential-oil-taxonomy-nomenclature-part2/
Create a Geographical Gathering 
Ask for several oils from one country, like Nepal or Turkey or Madagascar.  Then begin to see what these oils all have in common from their cultivation to their therapeutic properties. You'll become an expert on oils from one country of origin!
Check back on July 31st for Wish List Gift Ideas #5!
Related Posts: