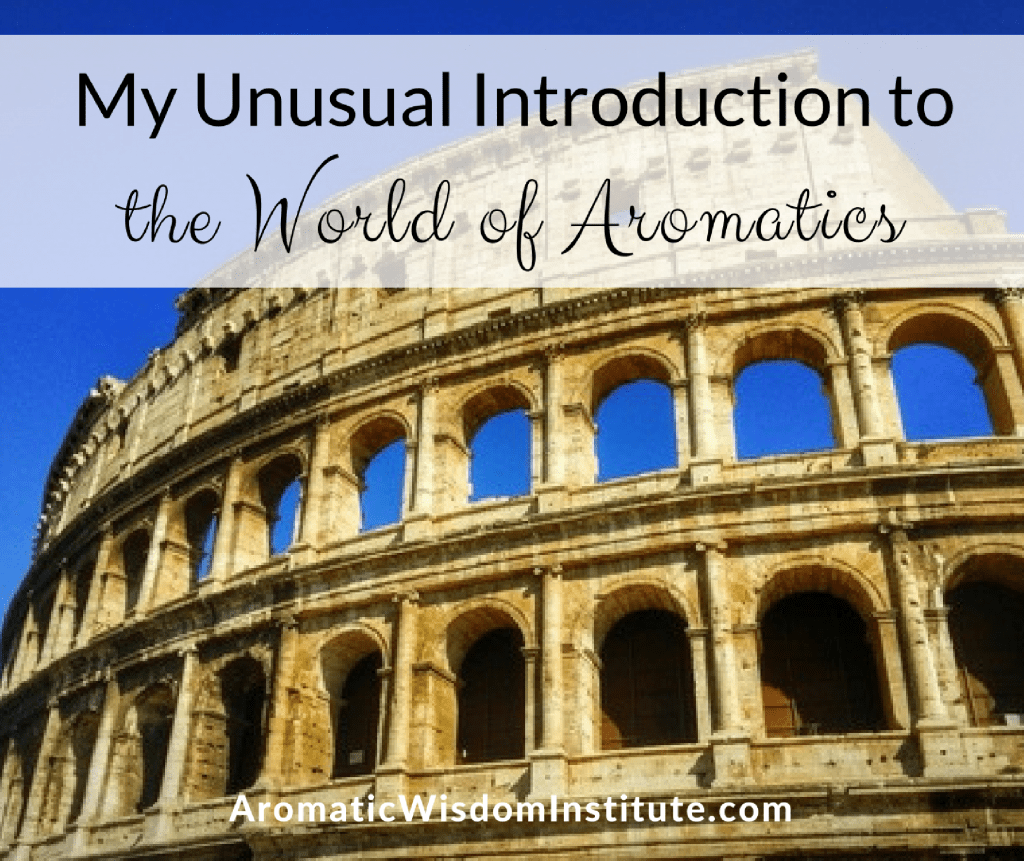 Every serious aromatherapist I know has a story about how they got involved with essential oils.  It's like remembering when you first fell in love.
Many start with an introductory class to satisfy a curiosity; others stumbled upon an interesting magazine article or book that shared the wonders of aromatherapy; some even discovered the modality first-hand with an aromatherapy massage.
In the nearly 30 years I've been working with essential oils, I've never met anyone who discovered them the way I did!
It All Started in Rome, Italy
From 1984 to 1996 I worked for the United Nations in Rome. In 1991 I had my second son, Gianluca, in a clinic where babies were massaged shortly after birth. Can you imagine? My tiny bundle was less than an hour old and the nurse was instructing me to put oil on my "neonato" and give him a massage. I'll admit, I had my doubts.  Massage? Can you do that to babies? I thought it would snap his bones or stretch him out of shape. I was assured that not only was it not harmful, it would be great for my little man.
The nurse handed me an unlabeled amber-colored bottle full of thick golden oil rich with a sweet, clean fragrance reminiscent of apples. I'd never smelled anything like it!  She proceeded to show me how to gently knead and stroke my son's tiny wriggly body and his response was immediate. He became quiet, yet alert, and made continual eye contact with me. What powerful bonding!
But that oil. Ohhh that oil!
There was something transformational about it.
Within minutes of massaging my son, we both become calm and peaceful. In fact, the entire "Nido" (nursery) had an environment of hushed serenity.  After three days in the clinic and twice daily massage for my tiny son, I finally asked, "What is in this bottle?!" I learned it contained an infusion of Calendula flowers combined with a tiny bit of Roman Chamomile essential oil.
I have since discovered that Chamaemelum nobile, commonly known as Roman Chamomile, is deeply relaxing because of chemical constituents that act as a natural CNS sedative (central nervous system). The chemical components of an essential oil determine the therapeutic properties, and Roman Chamomile is high in linalyl acetate, a natural sedative. Chamomile is also effective for infants when they are colicky or irritable.
Note: You can learn more about essential oil chemistry here:
Why Every Aromatherapist Should Learn Essential Oil Chemistry
Chemical Families Deep Dive Part 1
Chemical Families Deep Dive Part 2
As for the carrier of Calendula infused oil, Calendula officinalis has plant pharmacology that is, among other things, anti-inflammatory and used for soothing irritated tissue. Just what newborn babies need to help with their funky peeling skin.  I've since learned how easy it is to make my own Calendula infused carrier oil – here's a tutorial.
I asked the nurses where I could learn more about essential oils and was lucky to find an "Erboristeria" near my office and made friends with the proprietor. For years, I would visit the shop when we had a health issue at home, and she would guide me to the correct essential oil, dosage, and method of application.  I'll forever be grateful to the owner of that shop who patiently guided me in my passion.
When I returned to the United States in 1996, I began formal training in aromatherapy with many teachers and schools and began teaching other in 1997. In 2010, the Aromatic Wisdom Institute officially opened!
Follow YOUR Aromatic Bliss!
What a journey it's been!  You never know how the Universe will present your life's path to you.
Pay attention! When you find yourself drawn to something beyond your understanding, FOLLOW YOUR BLISS!
I did, now, many years later, it is my life's work and my deepest passion.
How about you?
Leave a comment below and tell me how YOU
first found essential oils. 
I'd love to hear about it! 
Related Posts: