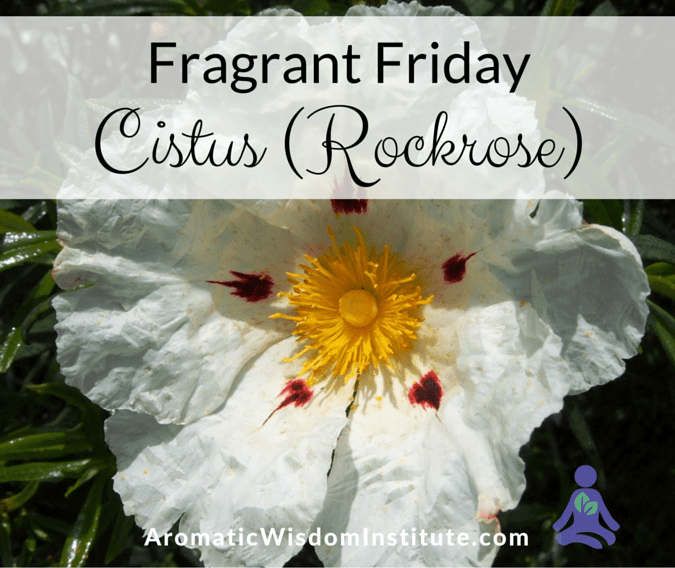 ---
Today's featured essential oil is terrific for healing wounds, scars
and loving on maturing skin.
It's great for the respiratory system and reducing a spastic cough…plus it smells amazing! 
Essential Oil of Cistus
(also known as Rockrose)
Cistus ladaniferus
My personal relationship with Cistus: I love oils that have a long history of use and Cistus has plant medicine that's been around since ancient times.  I began using this magnificent aromatic many years ago for energetic work and only recently discovered her remarkable affinity for healing the skin (maybe because I've reached an age where I'm trying everything I can to keep my own skin youthful!)  I now add it to my over-50 skin care products along with Frankincense and Carrot Seed.
Note: Base
Geographical source: Australia, Spain
Plant Part: Cistus oil is extracted by steam distillation of the leaves
Oil Characteristics: The oil is an amber color and has a strong aroma that is resinous, earthy, sensual and complex. 
Chemical Families:  Monoterpenes (lots of a-pinene), Monoterpenols
Therapeutic Properties:
Powerful skin and wound-healing

Anti-inflammatory

Helps to thin and expectorate mucous during cold or flu

Supports the adrenal glands and boosts immunity.

Calms and helps with insomnia
Some Suggested Uses
Cistus is much like Frankincense in its affinity for mature skin. I use it in all my skin-softening blends!

Add it to respiratory blends with oils like Eucalyptus, Ravintsara ,Pine, Saro and Frankincense to help reduce mucous.

Use alone or with Helichrsyum essentail oil to heal wounds, infections and new or old scars.

Cistus is a perfect addition to a lymphatic drainage massage, and in a compress can help reduce swollen lymph glands 

Because of it's antiinflammatory properties, it's great in blends for arthritis and muscle or joint pain.
Blends well with: Bergamot, Clary Sage, Cypress, Chamomile (Roman), Frankincense, Helichrysum, Lavender, Orange, Helichrysum, Juniper Berry, Patchouli, Sandalwood, Vetiver.
A Recipe Using Cistus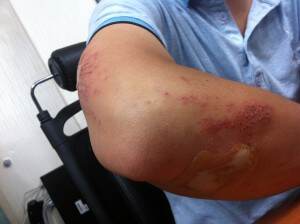 Minor Cuts and Wounds Spray 
Ingredients:
Cistus essential oil
Helichrysum essential oil
Lavender essential oil
2 oz Organic Aloe vera gel
2 oz spray bottle
Directions:  Add the aloe vera gel and essential oils to the 2 oz spray bottle and shake well.  Spray on the wound several times a day.  Keep this blend in the refrigerator.
Subtle Properties (vibrational and energetic):  Essential oils that are anti-inflammatory to the body, are also good at quieting the emotions and the spirit.  Cistus, therefore, is lovely to add to any energetic blends designed to quiet hot, inflammed emotions. Use it after the shock of a traumatic event or crisis.  It is a wonderful aid to meditation, grounding and centering.  I love to add it to unscented incense cones.
Safety Information: No safety issues specific to this oil.
Where to Buy:  You can find organic Cistus ladaniferus with batch-specific GC/MS reports at the online stores listed below.
NaturesGift.com, AromaticsInternational.com, StillpointAromatics.com
Note: I only recommend suppliers that I personally know and trust and whose products I use in the Aromatic Wisdom Institute classroom. My favorite essential oil supplier, PompeiiOrganics.com, doesn't carry this oil yet.  
If you'd like to read past Fragrant Friday posts,
check out the Fragrant Friday Archives
Related Posts: