Here's an easy recipe for an effective butter to soften cuticles.  It can be used with or without essential oils; however the addition of essential oils will help protect them from infection. This butter can be rubbed over your cuticles several times a day to keep them soft and healthy.
Ingredients
Jojoba Oil – 3 oz
Cocoa Butter – 3 oz
Beeswax – 1 oz
Essential Oils
For healing the cuticles, I recommend a total of 18 drops per 1 oz jar (3% blend) using the two oils below:
Tea Tree (Melaleuca alternifolia) – 8 drops per 1 oz jar
Lavender (Lavendula angustifolia) – 10 drops per 1 oz jar
Other
1 oz glass jars – 8
OR 1 oz flat metal tins – 8  (easier for travel)
Small scale  (a food or postage scale will work)
small bowls for weighing ingredients
pan
glass stir rod  (I have used skewers in a pinch)

Are you ready?  Let's make a cuticle butter!
Directions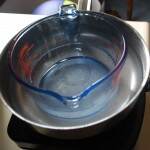 Step 1:  Put water in a pan and place a glass Pyrex cup in the water.  Turn on the heat and let the water get hot.  You will be melting your ingredients in this glass Pyrex.  This is known as a "double boiler" or bain marie method of melting a substance that could easily burn.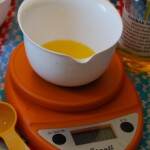 Step 2: While the water is heating, weigh out your beeswax, jojoba and cocoa butter in separate dishes.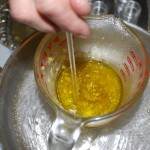 Step 3:  Add your ingredients to the glass Pyrex cup in this order:  beeswax (let melt) then cocoa butter (let melt) and finally add your jojoba oil.
Step 4:  Keep stirring until everything is completely melted.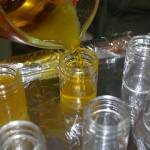 Step 5:  Pour the hot butter into your jars.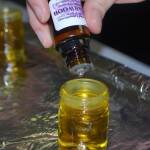 Step 6:  If you're using essential oils, add them immediately and stir well.  You can put the cap on right away.
Good Idea:  You might want to keep a few jars of this butter aside, without adding essential oils.  Store them in the fridge.  You can easily re-melt a jar later and add other essential oils to it for a different therapeutic purpose.  To re-melt, simply set up your double boiler again and place your jar of butter in the water, with the cap off.   Don't let the water boil or it might get into the jar.  The hot water will melt the butter enough that you can add essential oils, stir and cap.  Don't forget to add a label so you know what is in the jar!
Related Posts: