Necessity really is the mother of invention.
How my deodorant began as bug spray…
When my family goes camping, I always pack a couple of bottles of skin safe bug repellent that we can rub or spray right into our arms and legs to keep mosquitos away.  The bug repellant is a blend of skin nourishing essential oils plus lemongrass, and I add the oils to a base of organic aloe vera gel.  Natural aloe very gel is scraped from the leaves of the aloe plant.  It is a beige, milky color and has the consistency of a thick liquid and is easy to spray from a misting bottle.  It should look like this: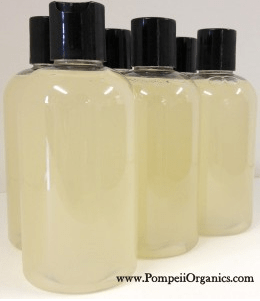 …and how my bug spray became deodorant.
Last summer while camping, I sprayed the bug repellant in my underarms in a moment of realizing I needed some "freshening up".  It worked great!  Once home, I continued to use it.  After two days I realized that I didn't have to put up with the sting from the lemongrass – I could just make a new blend, specifically as a gentle, effective deodorant for my underarms!  You can find that recipe in the graphic below.  Now when people come close to me or give me a hug they say "you smell so good!"
I strongly suggest that you make several underarm deodorant sprays with different oils to avoid essential oil sensitization.
If you don't like all the oils in the recipe below, below are some suggested alternative oils.  Try not to add more than 30 drops total to your 4 oz of aloe vera:
Spikenard
Black Spruce
Neroli
Cedarwood Atlas
Myrrh
Mandarin (Green) Citrus reticulata
You can buy all the ingredients you need, including the spray bottle at PompeiiOrganics.com.  If you subscribe to my free newsletter, you'll get a special code that will give you 15% when you check out.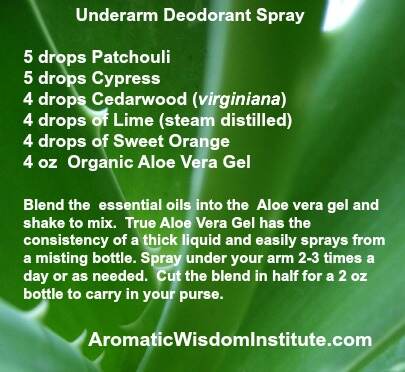 Related Posts: