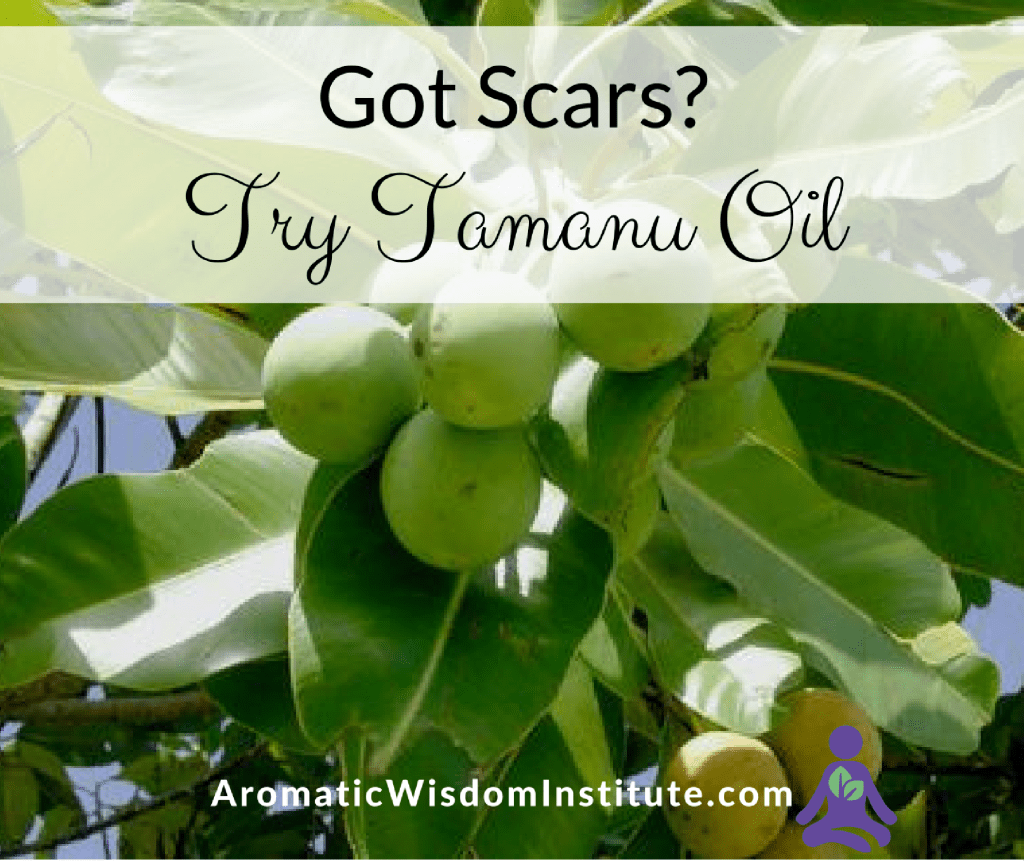 The Tamanu Tree with fruit (Calophyllum inophyllum)
Tamanu Oil in the Aromatic Wisdom Institute Classroom
Tamanu Oil is one carrier I always include in my aromatherapy student's blending activities. Tamanu is so unique and unlike any other carrier we use in class, and I get a kick out of watching my students reactions as they discover Tamanu's unusual aroma and color.
Tamanu Oil Benefits
Tamanu oil, also known by the name of Foraha oil, is a powerhouse when it comes to healing damaged skin. Research has shown it to be effective in the treatment of cuts, burns, rashes, scarring, stretch marks, psoriasis, and eczema.  It possesses a unique capacity to promote the formation of new tissue thereby accelerating wound healing and the growth of healthy new skin. It also helps prevent infection.
As if all this goodness weren't enough,Tamanu is strongly anti-inflammatory and analgesic making it a good choice to help relieve joint pain, arthritis, neuralgia, rheumatism, and sciatica.  It can be used alone or with other carriers to create a unique and powerful carrier blend.  Consider adding it to recipes for making creams, ointments or lotions.
Tamanu Oil Source and Method of Extraction
The Calophyllum inophyllum tree grows in Madagascar (where it is called Foraha) and in Polynesian (where it is called Tamanu).  It is been used by Polynesian women for centuries to promote healthy and clear skin, and on babies to prevent diaper rash.
The tree produces a fruit that contains a nut.  The nut inside doesn't initially have any oil as it forms as the nut dries, so it becomes a labor of love and patience to obtain it.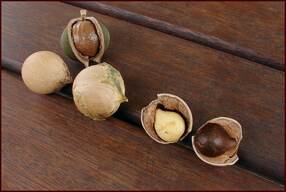 The nuts are placed on a drying rack for about eight weeks. During this time the nuts turn dark brown and lose about one-third of their original weight and their oil content becomes very high. This oil is extracted by cold pressing the nut and it comes out a beautiful deep green color. Though Tamanu oil is thick, once applied it is completely absorbed into the skin. Can you see why this carrier is a bit costlier than others? Trust me, it is worth every penny.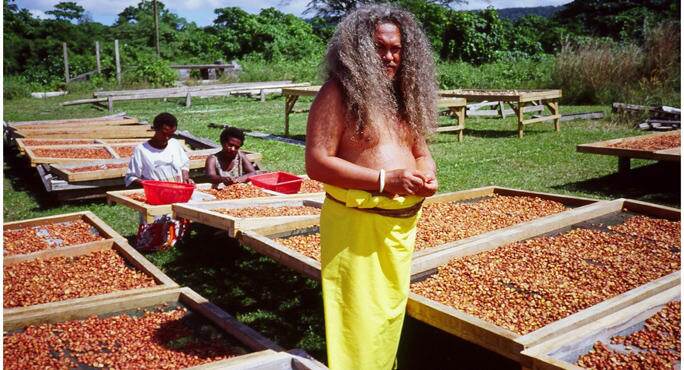 Ariipaea Salmon and Ni Vanuatu women drying Tamanu nuts.
Photo by Chris Kilham
(used with permission from the photographer)
Tamanu Oil Aroma
Tamanu oil has a strong but not unpleasant fragrance.  It is usually described as nutty. The aroma is strong enough that is may overpower the aroma of your essential oils, so know that going in. I blend purely for therapeutic benefit, and less for aroma with this fabulous carrier.
Tamanu Oil Shelf Life
The shelf life of Tamanu oil is about two years from the time of pressing, so make sure your supplier has that information.  Keep it in the refrigerator or a cool place.  It will get solid in the fridge so make sure you remove it about 30 minutes before using. For this reason, I recommend keeping it in small bottles.
What Should You Look for to Buy the Best Tamanu Oil?
It should be USDA Certified Organic, Cold-Pressed, Unrefined and made without the use of hexanes!
This Tamanu Oil 👇  is superb and what I use at home on my own skin and in my classroom.
Have you tried Tamanu Oil?
What do you think of the aroma?
What results have you seen with your skin?
Share in the comment section below!
---
References:
Kusmirek J. Liquid Sunshine: Vegetable Oils for Aromatherapy. Sumerset, England: Floramicus; 2002
Price S. and Price L. Aromatherapy for Health Professionals, 4th edition, Elsevier, London, 2012.
Rhind, J. Essential Oils, A Handbook for Aromatherapy Practice, 2nd edition, Singing Dragon, London, 2012
Schnaubelt K. Advanced Aromatherapy, The Science of Essential Oil Therapy, Healing Arts Press, USA, 1998
The Medicine Hunter, Tamanu Oil, Medicinehunter.com/tamanu 

Related Posts: