The next time you feel stressed, sad, angry, overtired or bored and start to grab an unhealthy food choice, try this instead:
1. Stop. Drop your shoulders (they're probably hiked up around your ears).  Become alert to what you're about to do.
2. Take out a nasal inhaler that you've already prepared (more on this below).  Take a looooong deep inhale from an essential oil nasal inhaler.  Do it again.
3. Now repeat the following affirmation as many times as you need:
I make good food choices, even when I feel like this.
I make good food choices, even when I feel like this
.

..once more, like you mean it!




I make good food choices, even when I feel

like

this!
There is evidence-based research showing that essential oils can calm the central nervous system, settling stress and anxiety.  This will help you stick with healthy eating choices.

In Case of Emergency, Sniff!
Just like a fire extinguisher has it's own designated glass case, so should your inhaler.  Okay, it doesn't have to be glass, but I recommend keeping your inhaler in it's own special container like a pretty basket or satin box, and make sure it is in an open container (None of this: "Oops! Just ate entire bag of Oreos 'cause I didn't see my inhaler).   Keep it in plain site where you  tend to do your snacking.  That could be your home kitchen, desk at work, in your car when tempted by that all-american diet diablo, The Drivethrough.  When you feel tempted to reach for food to soothe you, reach instead, for your special blend and say the affirmation.  Say it again.  And again.  Scream it if that helps!  With time, you'll only have to smell the blend and making a better choice will become natural.
Suggested Essential Oils:
The oils for your blend will be a highly personal choice, but I recommend anything that you love and makes you feel calm, soothed and comforted. This might be the time to invest in a small bottle of one of the precious oils like Rose or Neroli.  You are worth it!
Here is a list of 12 well-known calming essential oils:
Bergamot – Citrus bergamia
Chamomile, Roman – Matricaria chamomila
Clary Sage – Salvia sclarea
Frankincense – Boswellia carterii
Jasmine absolute – Jasminum grandiflorum
Lavender – Lavendula angustifolia
Neroli – Citrus auratium var amara
Patchouli – Pogostemon cablin
Petitgrain – Citrus aurantium var amara
Rosewood – Aniba roseodora
Spikenard – Nardostachys jatamansi
The Inhaler
Nasal Inhalers come in about 27 different colors, so get a color that makes you happy! If you're interested, you can purchase a pack of 10 DIY Colorful Empty Plastic Aromatherapy Inhalers with 10 Designer Labels through my Amazon Wisdom Institute Bookstore.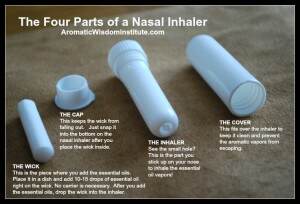 How to Put Your Inhaler Together:
1. The Parts of an Inhaler
The Inhaler
The Wick
The Cap
The Cover
2. Load Your Inhaler
Place the cotton wick in a small dish
Add 10-15 drops total of essential oil onto the wick
Drop the wick into the inhaler
Add the cap, the cover and you're ready to go!
Read more about putting together a nasal inhaler in my blog post, How To Make A Nasal Inhaler.
Do you have more suggestions for using aromatherapy to calm stress eating?
I'd love to hear it!
Leave a comment below and share your idea!
ALSO….
Liz's Free Newsletter, A Dose of Aromatic Wisdom,
is packed with aromatherapy news, recipes and tips!
And I'm including some special offers for the upcoming holidays!
Click HERE to subscribe to A Dose of Aromatic Wisdom
Related Posts: