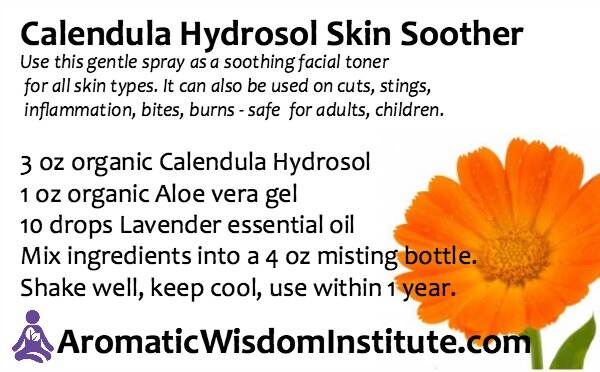 I love the beauty of calendula flowers as well as her incredible skin-healing properties.  After all, calendula oil is what was used in my infant son's first massage.  Last year I shared a tutorial on how to make your own Calendula Infused Oil that's fabulous for skin all by itself, or as a carrier for skin nourishing essential oils like Lavender, Rose, Geranium, Palmarosa, and Frankincense.
Then, three days ago I experienced Calendula hydrosol for the first time and I'm already hooked! 
Calendula hydrosol isn't strongly aromatic because it doesn't contain volatile essential oils.  However, it does have a gentle and sweetly herbal aroma that I find delightful. It's incredibly safe and has a million applications, particularly for the skin.  If you'd like more information about these gorgeous waters, I wrote this post called What is a Hydrosol?
Here are 5 ways you can use this divine distillate:
Use as a daily facial toner for all skin types from mature to acne-prone

Spray on a baby's bottom to soothe diaper rash

Use in a spray or compress for shingles

Replace your water with this hydrosol in any face cream recipes

Spray on hot spots, cuts, wounds of animals.  A much safer alternative to essential oils
References:
Price, Len and Shirley Price. Understanding Hydrolats: The Specific Hydrosols for Aromatherapy. 
Related Posts: