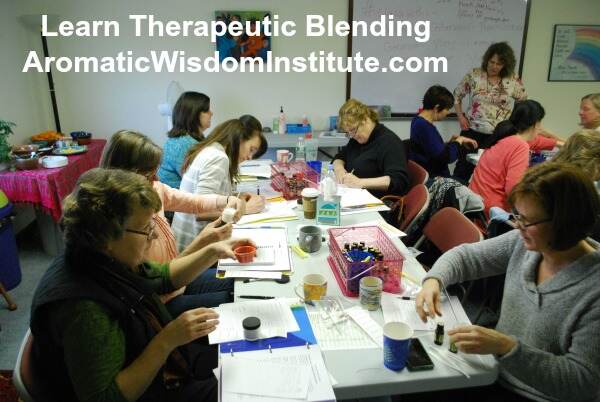 If you are in the Northeastern United States, this message is for you.  If you are a distant fan,  I have a special message for you at the bottom of this page!
You know what?  I used to avoid scheduling classes in mid-winter here in Pennsylvania in case it snowed. But last February I decided to try it anyway.  I thought, "if it snows I can reschedule the class or refund their tuition".
Well, It didn't snow, 25 people signed up and the class was awesome.
The weekend of February 7-8, 2015, join me, Liz Fulcher, and learn about the Therapeutic Uses of Essential Oils.
You'll get to blend with 20 essential oils, 3 carriers, lots of bottles/jars, earn 4 massage CEUs and learn to formulate therapeutic essential oil blends.
Good for the mind and body, great medicine for the soul!
What you will learn:
• What are essential oils, where do they come from and why they are considered powerful plant medicine
• Essential oil safety
• How essential oils work on the body and mind
• How to create a blend for pain, anxiety, stress relief and respiratory issues
• How to blend at the correct dilution for the issue being addressed
• The difference between blending for an acute versus chronic problem
• The best carriers and essential oils to have on hand for therapeutic blending
PS:  If you have any questions at all just reply to this email and I will be happy to answer them for you.  I can even help you find an inexpensive overnight room.  If you'd like you can call me at 570-259-1746.  Leave a message and I'll call you back.
Click here to claim your spot in the classroom now
Love, Liz
Liz Fulcher
Clinical Aromatherapist, Essential Oil Educator
…also known as "The Fragrant Muse" 🙂
A SPECIAL NOTE FOR MY WONDERFUL PEEPS
FAR FROM PENNSYLVANIA
 (where it is probably warmer):    
If you are too far to travel to Pennsylvania, fear not.  I will be offering an online class very very soon so you can get the same information from little 'ol Lizzie.   In the meantime you can listen to this information podcast called
Aromatic Wisdom Newsletter
Subscribe to get our latest content by email.
Related Posts: