---
ABOUT THIS EPISODE

If you use essential oils, hydrosols, CO2s or vegetable carrier oils, this episode of the Aromatic Wisdom Podcast with Dr. Kelly Ablard is one you will not want to miss!  In this show, I interviewed Kelly Ablard, Director of The Airmid Institute and an expert on medicinal botanicals at risk.    

I straight up asked Dr. Ablard, "Are we in danger of running out of some essential oils because we're over-harvesting the plants?"  Her answer….?  You'll just have to listen to the podcast to learn her response! 
ABOUT TODAY'S GUEST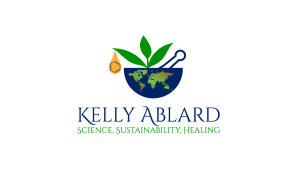 Kelly Ablard, Ph.D., EOT, RA is the Founder and Executive Director of the Airmid Institute. She has initiated and contributed to educational and research projects focused on the conservation of threatened and CITES-protected IUCN Red Listed fauna and flora species such as the Bornean orangutan, the red slender loris, the Javan slow loris, and Peruvian rosewood.

Her passion for essential oils, sustainability and working with communities comes through in her work as a global speaker, author, researcher, community scientist, and educator. She has also enjoyed establishing a community aromatic medicinal plant garden for at-risk youth, multicultural, disabled and First Nations students, and developing a college program in urban sustainable agriculture. She also provides expertise on threatened essential oil-bearing plants in her role as a Co-chair of the International Committee on Sustainability of Aromatic Plants and Essential Oils used in Aromatherapy and Natural Perfumery, and as a Board member of the United Plant Savers.
WHAT YOU'LL LEARN
The names of several at-risk plants that produce commonly-used essential oils. 
Substitutes for essential oils extracted from at-risk plants
Where to find conservation status lists
How to personally get involved with conscious conservation
A common misunderstanding about aromatic plant sustainability that Kelly has experienced
What's exciting at the Airmid Institute in 2020


 
RESOURCES and LINKS 
---
WHERE TO LISTEN TO THE AROMATIC WISDOM PODCAST
Kindly leave a rating ⭐⭐⭐⭐⭐ and a review! When you subscribe, you'll never miss an episode

Where to Connect with Liz
Thank you for listening 💖 and until next time…..


Related Posts: