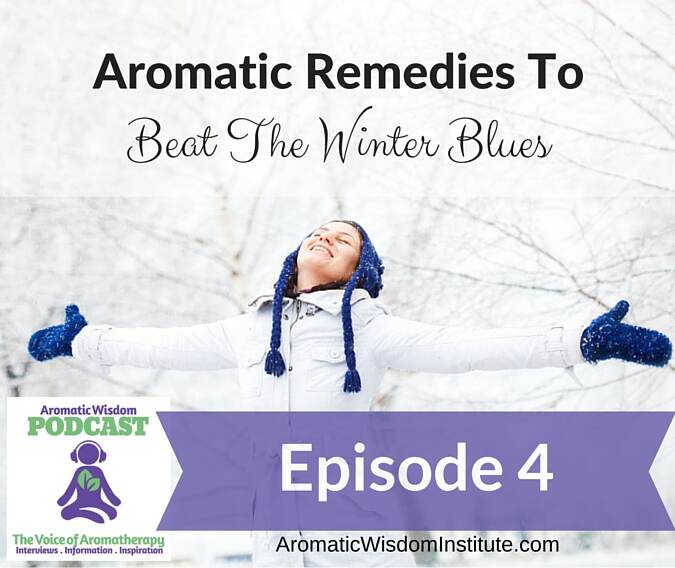 Welcome to the Aromatic Wisdom Podcast!
After living in sunny Rome for 12 years, my move to Pennsylvania in 1996 brought an unexpected adversary — the winter blues, formally known as seasonal affective disorder (SAD). The first winter after my return to the United States, I noticed an unusual desire for daily naps and an overall sense of melancholy. I attributed these symptoms to the adjustment of moving to a new country. However, when my mood magically lifted the following summer, only to drop again in winter, I knew I was experiencing SAD. SAD is a condition of mild to major depression with a seasonal pattern. Most people begin to notice feelings of sadness and reduced energy around October or November, and find they become worse in December, January, and February, when the days are shortest.
In today's podcast, Liz shares how using essential oils and other natural remedies can help lift the emotional darkness of winter.
5 Recommended Essential Oils for Winter Blues:
Lavender – Lavandula angustifolia or Lavandula latifolia
Clary Sage – Salvia sclarea
Geranium – Pelargonium x asperum or Pelargonium graveolens
Ylang Ylang – Cananga odorata forma genuina
Siberian Fir – Abies Siberica
    You can get a 10% discount off these and more essential oils and aromatherapy products from NaturesGift.com! Just pop your name and email in the box below and receive the special code!    
Enjoy the podcast! It is my sincere hope that you will feel inspired to explore essential oils deeper after listening and learn what is possible for your health and well-being when you include aromatherapy into your life.
Show Notes (Links and resources mentioned in this podcast episode)
What aromatics do you use to lift your mood
and get you moving in winter?
Aromatic Wisdom Newsletter
Subscribe to get our latest content by email.
Related Posts: