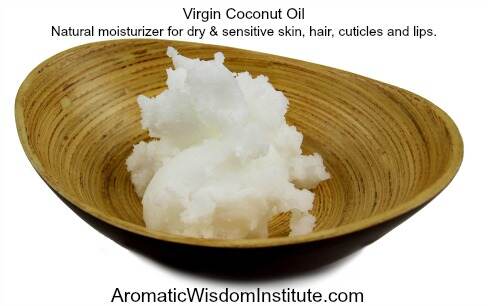 Virgin Coconut Oil (Cocos nuciferais) is one of the most effective, chemical-free, anti-aging natural moisturizers your skin could ask for. It is cold-pressed from the flesh found inside the shell.  Try to buy organic and, please, avoid solvent extracted as it is a much less desirable oil.  Coconut oil is resistant to rancidity and has about a two-year shelf life.
You can see in the photograph above, at room temperature or 76 degrees and below, coconut oil is solid.  Above 76 degrees, it becomes a liquid oil.   Did you know Coconut Oil is really considered a butter?
Got Anti-Oxidants?
Coconut Oil is high in anti-oxidants that penetrate the underlying tissues of your skin.  This prevents and protect against the formation of free radicals (those nasty critters that break down your skin's connective tissue with aging).
It is a superb base for all essential oil blends, but in particular for formulations created to help dry, itchy skin.  Will it clog your pores?  Nope!  You can also use it "as is" on your skin as a moisturizer – with none of the chemicals in commercial moisturizers!  It actually creates a protective layer, helping to retain the moisture in your skin.
I have rosacea and use it during a flare up because of it's cooling nature.   It's also great in soaps because it makes them lather well, and in body butters because the lauric acid gives them a lovely smooth texture.
In a (Coco)nut shell, here are some of the outstanding features of Coconut Oil.
Softens and lubricates the skin
Helps bring back a youthful appearance
Mild and nourishing for inflamed, irritated and sensitive skin.
Heals, repairs damaged skin
Prevent premature aging of skin
Assist in the prevention of liver spots caused by aging and over-exposure to sunlight.
Great base for sensitive skin
Cooling properties
Prevents dry hair and lips
Use in nail and cuticle treatment
Antifungal
Soothing for dry, itchy skin
Two Recipes
Anti-Aging Face Butter
1 oz Beeswax
3 oz Coconut Oil
3 oz Mango Butter
8 drops Carrot Seed Essential Oil
4 drops Frankincense Essential Oil
Four 1 oz glass jars
Directions:
Melt the Beeswax, Coconut Oil and Mango Butter first.
Immediately after you pour the hot butters into your jars, add your essential oil to one of the jars.  Add the 12 drops of essential oils to just ONE of the jars (this will be a 2% blend).
I suggest this in case you want to save the other three jars and remelt them later adding different essential oils.  For example Lavender (Lavendula angustifolia) for sunburn or Helichrysum (Helichrysum italicum) for psoriasis.
Refreshing Lip Balm
Jojoba oil,  .5oz
Coconut oil, 2.5 oz
Beeswax,  .5 oz
35 drops of steam distilled Lime (Citrus aurantifolia) essential oil
(Note: neither of these are phototoxic essential oil, making them good choices for the lips)
Four 1 oz glass jars
Directions:
As above
Where to Buy Virgin Coconut Oil?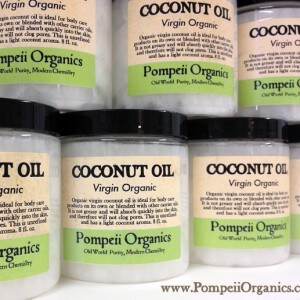 You can buy Organic Virgin Coconut Oil at PompeiiOrganics.com, any good health food store or the organic section of your supermarket.
Related Posts: