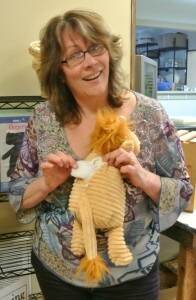 Collect them ALL!
Lenny the Lion – Peanut the Elephant –  Ben the Dog – Fiona the Feline
The first time I saw these plush, washable aromatherapy animals for children, I knew I had to have one for my grandson, Bean, who is five.  What a fantastic way to sooth and comfort a child with essential oils while cuddling a soft friend!  Even an adult's 'inner child' can benefit from an Aroma Pal.
Do I keep one on my bed at home?  Maybe.
Just add 2 or 3 drops of organic essential oil to the aroma pack that comes with the toy (see the photo below).  Now place it in the zippered pocket that is sewn into the back.  You might even want to make a couple of aromapacks yourself (how hard can it be?), and douse each one with different essential oils, keeping them in ziplock bags with a label and let your child choose the one they want.
I firmly believe in empowering children by letting them make their own choices about things, when appropriate, and this would be a great way to do that; not to mention an excellent method of application of those wonderful germ-killing, immune-boosting essential oils!
Here are three ideas for using your Aroma Pal:
As part of a bedtime ritual (lavender, sweet orange to invite sleep)
While traveling (use peppermint if the child gets motion sickness)
Take it to nursery school or sleepovers in case of homesickness (and germ protection)
You can find Aroma Pals plus organic essential oils at PompeiiOrganics.com.  Remember, if you subscribe to my newsletter, you get 15% off your purchases at Pompeii Organics with the exclusive code!
Now tell me, what other ways might YOU use an Aroma Pal?
Share below in the comment section!
Related Posts: