I recently invited Denise, a 2011 ACP graduate, to share about herself with my blog readers.
I love what she wrote and am proud and delighted to have you meet this deep, woman of the earth.

I Walk My Talk
by Denise DeSousa
As I freely express myself through my work each day, I am honored and grateful for my life and encourage others to find their passions and create the life they desire and deserve.  One expression of myself is my aromatherapy business Turtle Moon Garden Apothecary. 
Being a naturalist and living from an earth-based spirituality, I have always been inspired by nature and honor all that she has to give us.  Nature provides us with an apothecary in the essential oils that are the foundation of my business.  Buying 100% pure organic essential oils that have been GC/MS tested, I create organic natural care products for personal use and blends for tension, for sleep aide, for clearing a space, blends for balancing the chakras and a line of tattoo and body piercing after-care products, plus much more.  This aspect of "creating products" is one of my favorite reasons I enjoy and love this business. The possibilities are endless!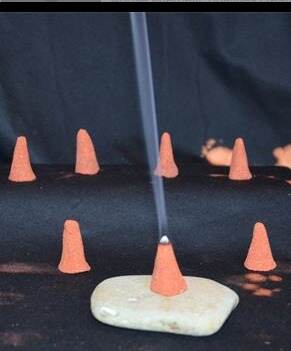 (Denise's handmade incense is beautiful!)
Seeing clients for consultations is also a part of my business as a Professional Aromatherapist.   The knowledge and certification I acquired in the Aromatic Wisdom Institute Aromatherapy Certification Program  – from the first day in class – gave me the confidence and experience to begin this new career. 
I have
integrated the use of essential oils into my practice of Reiki and Crystal Therapy as each has its own beautiful energetic qualities to bring to the session. 
As "I walk my talk" in life, I use essential oils daily in my cleaning products I create for home, for all my products at Turtle Moon Garden Apothecary, for my pets, for my family, for others in my private practice, in ritual and meditation. 
I will always be grateful to the universe for giving me the opportunity to have made my dream a reality of doing this work.
You may visit my website www.turtle-moon-garden.com to browse my product line, plus 'like' and follow me on my Facebook page, Turtle Moon Garden Apothecary.
In love and light,
Denise
(Denise and her daughter Carly)
Related Posts: