The Energetics of Essential Oils
Discover Subtle Aromatherapy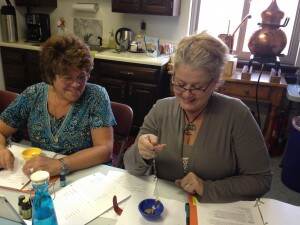 Dates: To be announced – 3 days
Location: Aromatic Wisdom Institute
Time:  9:30 – 5:30
Tuition: $475
Materials: Everything you need is included in your tuition: Blending supplies such as essential oils (students have access to many 'precious' oils in this class like rose, jasmine, neroli, helichrysum, sandalwood, melissa), carriers, bottles, labels plus a great manual!
Instructor: Liz Fulcher

What is Subtle Aromatherapy?
Subtle Aromatherapy makes use of essential oils to affect the subtle body and the soul.   The practitioner (user) draws on the subtle, energetic or vibrational qualities rather than their physical properties.  Subtle aromatherapy may be described as a  form of energetic healing.  It also embraces the use of essential oils as an aid to meditation, affirmations, visualization and all transformative techniques based on inner work.
What Will I Learn in this Class?
Students will examine the essential oils in a while new light, revealing their subtle energies and vibrational qualities.  We will explore the relationship between essential oils and our energy centers called "chakras".  You will learn how to have a conversation with your essential oil and listen to it's message for you.  Students will also learn how to do a consultation for someone and follow up with an energetic blend.
Why Should I Take this Class?
At times our energy can get stuck or the chakra can pick up energy from an outside source. When a chakra is not balanced, it can affect both physical body and aspects of our spiritual and emotional selves. Essential oils also have their own individual frequencies and energetic properties and can be of great assistance in balancing our energy centers.  Learn to clear those stuck areas of your energetic body.
Will We Do Any Blending?
Oh yes!  Liz includes lots of blending and hands-on activities in every class!  Everyone will create three energetic blends to take home.
Class Overview:
Learn the benefits of using essential oils energetically
Become knowledgeable in essential oil safety, even for energetic work
Experience an essential oil meditation to connect with aromatics at the heart level
Learn about the properties of 20 energetically significant essential oils (including many "precious" oils like Rose, Jasmine, Neroli, Sandalwood)
Discover several methods of energetic application of oils and blends
Experience using a pendulum with your chakras and for choosing essential oils
Hands-on blending – Create your own energetic formulas!

November 6, 7 & 8, 2015
Only $475!