In the aromatherapy world, the name Andrea Butje is synonmous with excellence.  She has set the bar to a new high in essential oil education at her school Aromahead Institute and has given those of us who love high quality essential oils an invaluable gift: relationship with the distillers.  If you want to buy directly from those who make essential oils, you can subscribe to her International Directory of Essential Oil Distillers.
Now she has written a book called Essential Living:  Aromatherapy Recipes for Health and Home.  This book is exactly what you would expect from Andrea.  Clear, easy to follow, based on research and bursting with information.
Would you like to win a copy?  Of course you would!  Keep reading….
About the Book
This beautiful book has every kind of recipe a beginner would need to get started with aromatherapy – for health and home,  just like it says on the cover!  Even a veteran aromatherapist will want to add this practical guide to their library.  Andrea has shared 60 of her best (and favorite) recipes to help you create safe and environmentally-friendly products for everything from personal body care to cleaning the house.  This is such a great resource!

I asked Andrea if she would be willing to share an autographed copy of her book with one lucky reader of my Aromatic Wisdom blog and she said, "sure!"   My bet is, this book will become a classic.  You'd better get a signed copy while you can 🙂
_______________________________________________

Here are the Rules in 3 Easy Steps:
Step 1.  Leave a comment below, or on any of my blog posts.  There are plenty to choose from – look to the right and you'll see Recent Articles, or click on the drop down menu called Categories.
Step 2.  Go to Facebook to Andrea's Aromahead Institute page and you'll see her post about the giveaway.  (It begins with "Aromahead Institute is doing a blog/book tour!" There's a thumbnail photo of Andrea being filmed.)  Found it?  Great!  Now simply a) "Like" the Aromahead fanpage, and b) "Share" that post so others can learn about the book giveaway!
Step 3.  Email Andrea at andrea@aromahead.com to confirm that you have shared her post and commented on my blog.
Andrea will keep track of all the emails and randomly choose a winner.
**Note:  All entries must be in by midnight on Monday, Dec. 31, 2012.   The winner of the Essential Living book will be announced right here on my blog on January 1, 2013 and will be contacted directly by Andrea Butje.
_______________________________________________
I recently interviewed Andrea about her book – as well as her life as an aromatherapist.
Liz:   What inspired you to write Essential Living:  Aromatherapy Recipes for Health and Home?
Andrea:  I have always enjoyed sharing what I know about essential oils. My motivation to write the book started when I realized how many of my friends had chemical cleaners in their homes, even the ones with small children in the house. I know how easy it is to make your own cleaning products and how hard chemical cleaners are on the immune system. I was constantly sharing these recipes with friends. Finally I decided the information needed to be in a book. While I was writing, the book turned into much more than cleaning products. Now includes a much wider range of recipes including body care products and blends for issues like colds and flu, sleep and pain.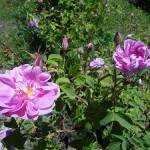 Liz:  If I someone wanted to give this book to a non-aromatherapist friend, and they wanted to include a few essential oils with the book, which oils would you recommend?
Andrea:  I would suggest starting with a small collection of essential oils including lavender, lemon, peppermint and white pine. This group of oils provides a wide range of therapeutic activity and are moderately priced.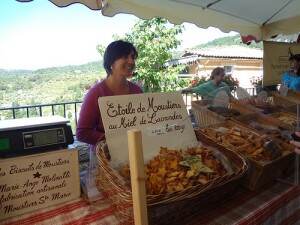 Liz:  If you had to do it all over again, is there any aspect of getting your first book published you would do differently next time?
Andrea:  Actually, I am really happy with the process. I self-published, hired a professional editor and a designer. I learned a lot and look forward to writing another book.
Bergamot distiller in Italy
Liz:  Do you have any advice to give an aspiring aromatherapist who wants to write a book ?  (Like me 🙂 )
Andrea:  Do it! The more accurate information we have available about using essential oils, the better. I would suggest being sure that the information shared in the book is either supported by solid research or by clinical and personal experience.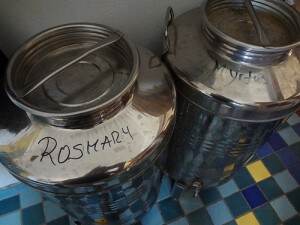 Hydrosols in Crete
Liz:   What do you do when you're not writing or teaching?
Andrea:  I travel frequently to visit essential oil distillers around the world. I love meeting the farmers and distillers that make it all possible, and I always learn from them. I love taking photographs of the plants and distilleries. In the past few years I have been to visit essential oil distillers in Greece, France, Bulgaria, Slovenia, Croatia, Hawaii and Canada.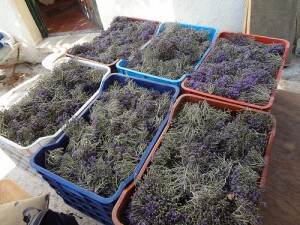 Freshly harvested Thyme in Crete
Liz:  What aromatherapy projects are you working on now?
Andrea:  My partner Cindy Black and I are co-authoring an online course called Aromatherapy for Massage Therapists. Cindy and I founded and co-owned the Finger Lakes School of Massage in NY for 10 years. We very excited about the class and are almost done writing and making the videos for the course. We hope to have it available at Aromahead Institute by the end of January.
Andrea "on the set" for her new online class
Liz:   That sound so exciting!  Finally, Andrea, where can  people learn more about you?
Andrea:  Thanks for asking Liz!
Purchase Essential Living:  Aromatherapy Recipes for Health and Home: https://tinyurl.com/Aromahead
Aromahead Institute: www.aromahead.com
Aromahead blog: https://www.aromahead.com/blog/
Aromahead  free and educational newsletters: https://www.aromahead.com/newsletters
My photographs on Flickr: https://www.flickr.com/photos/aromahead/
I made some fun Youtube videos: https://www.youtube.com/user/trustyoursource
Facebook: https://www.facebook.com/Aromatherapyeducation?ref=ts
Twitter: https://twitter.com/aromahead
Google +: https://tinyurl.com/Aromahead-Google
Pinterest: https://pinterest.com/aromahead/
Articles: https://blogs.naturalcures.com/author/a.butje@naturalcures.com/
THANK YOU ANDREA!
********************************

Want to subscribe to Liz's newsletter? 
It's packed with aromatherapy news and tips! 
Aromatic Wisdom Newsletter
Subscribe to get our latest content by email.
Related Posts: