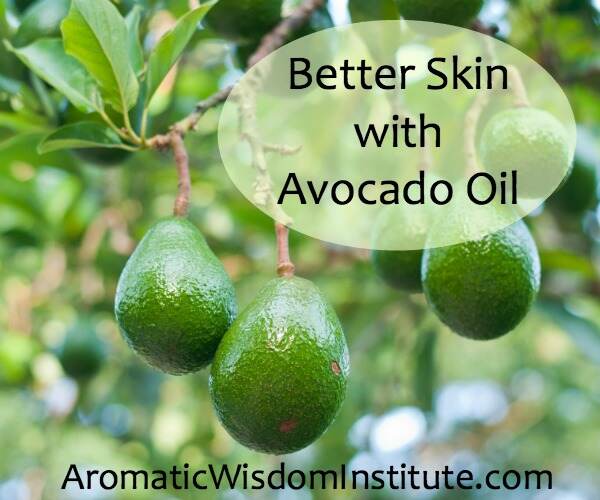 Massage Emergency  = See Avocado Oil in a New Light
I never gave Avocado oil its due respect until a couple of years ago when I had a "massage oil emergency".  As a massage therapist of 17 years, I have my three or four favorite oils and creams that I use in my practice, but Avocado Oil wasn't one.  There was no reason for it, it just never occurred to me to use that particular carrier in this way. That is, until the day I found myself facing a full massage schedule and no lubricant. Every bottle and jar was empty.
I remembered that at my school, the Aromatic Wisdom Institute, I had some beautiful organic avocado oil in the fridge that my students had used to make a moisturizing facial serum in class, so I dashed out, grabbed the oil and saved the day. 
But that's not the end of the story…
It was winter, and here in Pennsylvania winter means super dry skin for folks. That day my massage clients' skin sucked up the avocado oil like a sponge!  Initially, I had been concerned that it might be too thick and waxy for massage but instead was amazed at how beautifully it absorbed into the skin.  I felt like my clients left with not only relaxed muscles and minds, but nourished skin!
Now that the oil was in my home I decided to really make friends with this carrier and use it from head to toe. What I noticed was remarkable. My skin was more silky and less flaky, and the rough patches around my heels and elbows were gone.  My skin felt deeply hydrated.  It is now a staple in my personal body care kit and my massage therapy studio!
Read on to learn more about this spectacular carrier and it's myriad benefits for skin and hair!
Avocado Oil (Persea gratissima)
This gorgeous rich green unrefined, organic Avocado Oil contains vitamins A, B, D, E, minerals and skin nourishing essential fatty acids. It does have a slight nutty aroma that disappears when you add essential oils. It is expressed from dried avocado flesh. It is highly penetrating, deeply nourishing, and one of the most penetrative of all natural plant oils. Unlike most moisturizers it will penetrate through the epidermis and into the dermis layer of our skin. The results are soft and hydrated skin.
Because of it's humectant properties that prevent drying out, this moisturizing effect is long-lasting. Repeated applications of body butters, body oils, facial serums and lotions made with Avocado Oil will increase the hydration of the upper layers of skin and improve it's elasticity. If you're using commercial, petrochemical-based face creams, save your money and get better results by making your own own with natural vegetable oils, like organic Avocado Oil.
While all skin types will see benefits from Avocado Oil, skin like mine, dry and mature, will find an even more noticeable difference. This may be because this oil is reported to help increase collagen production within the layers of the dermis. Collagen is the connective protein that binds our skin together and youthful skin has high levels of it.
Know what else?  This oil has a slight level of ultra violet light (UV) protection, about an SPF 6, so it's also a good non-toxic suncreen!
[tweet_box]It is important to use organic cold pressed avocado oil, and not one of the cheaper refined oils. Cold-pressing helps retain the important plant sterols, vitamins and antioxidants.  Avocado oil has a 1-2 year shelf life and, like all carrier oils, best kept cool. [/tweet_box]
Here is a summary of some of the properties that will make you love avocado oil!
Fantastic skin moisturizer

Helps prevents chapping, cracks and stretch marks

Offers light UV protection for the skin

Anti-inflammatory for the skin

Easy skin penetration

High in Vitamin D  (great for winter when we have less sunshine

Post-menopausal skin will feel more supple

In body massage, if it feels too thick, dilute it with other organic carriers to thin it out a little.

Good for all skin types: normal, dry sensitive, mature and eczema/psoriasis prone skin

It nourishes the hair
5 Easy Ways to Enjoy the Benefits of Avocado Oil
1. Body Moisturizer: Personally, I love to slather it all over my body after a shower while my pores are open and my skin is damp. I might even blend it with Jojoba Oil and throw in a couple of essential oils like Lavender or Frankincense to further nourishing my skin.
2. Facial Moisturizer:  You can apply avocado oil to your face in the same way you would any other moisturizer, with clean fingers or a cotton ball. Just a drop will do as a little goes a long way. But my favorite way to use Avocado oil for my skin is to mix it with a bit of hydrosol before massaging it into my face and neck. This makes makes a difference in how it absorbs gives your skin a double hit of goodness. If you need a recipe, try this:
15 ml Avocado Oil


15 ml Frankincense Hydrosol

Apply with a cotton ball. Be sure to shake the bottle before each application.
3. Facial Cleanser: This one is super easy. Just massage the oil into your skin for a minute or two and remove it with a cotton ball or tepid washcloth.
4. Hair Moisturizer: Massage a little into the ends of your hair and leave it on for about 10 minutes then wash it out. You won't need a conditioner. Try this twice a week.
5. Massage Oil
Organic Avocado Oil 1 oz

Organic Jojoba Oil 1 oz

Organic Lavender Essential Oil 24 drops

2 oz amber glass bottle

Mix all the ingredients in the bottle, shake to mix and store in a cool, dark place. 
Is Avocado oil new to you to use on the body
and not just in your salad?
(which you can do, by the way)
What is YOUR favorite way to use
this magnificent carrier oil?
Leave a comment below!
Related Posts: